What about a group buy direct from the manufacturer?
I'd be keen.
It is possible. They appear to make some pretty nice endmills as well.
Here is the company info:
Gearish, LLC
719 Whig Lane
Monroeville, NJ 08343
United States
Their online store only allows users with a reseller account in.
Openbuilds store has this router: openbuildspartstore. com router11/ $149.00 But they only sell with machine bundles for an Openbuild.
Yep. That is the link from my original post. lol
Folks who are interested in this should be writing in to sales@carbide3d.com — a head count of folks who are interested should be of interest.
Email sent. I recommend others follow suit.
Interesting story for you:
We've been working with our router vendor on this for about a year. They didn't know how to make it, so we had to get their CAD files and then @Luke redrew everything to make it ER-11 compatible. We have a person working for us in Hong Kong to help with local vendors and this took a lot of effort on his part. They didn't understand ER-11 and they didn't want to share CAD files.
Luke got the design done and Bryan, our local guy, worked to get samples made, because we're not going to order production quantities on their word. They were very good. We went to order them, and the router vendor gave us an absurd lead time. I have no idea on the current delivery time, but they'll arrive eventually.
What shocked us was this other Er-11 router coming out. We ordered one, and were surprised to see that it's very likely from the same vendor. They sold our product to someone else before it was sold to us.
I can understand that would/will be frustrating!
It was a very 'not cool' moment when we saw this. However lesson learned, move on.
Hopefully April/May the C3D version will hit the store one way or another.
We did farm out beta 'samples' to a few people through-out last year. I can't recall everyone who got one, but @wmoy @SLCJedi @neilferreri @Archetype360 all had them and feedback was really positive. Cats out the bag now so any feedback is welcome here.
Glad to hear that this has been in the works and I am sorry to hear that there is a good chance your work was effectively stolen from you. Now if only it was BLDC and able to be PWM controlled.

Of course we know that the Chinese never steal intelectual property.:-). Well hardly ever!
I've had one for a while, and have been very pleased with it and really appreciate the chance to test it.
It's great to have the same wrenches and collets for both machines, and ER-11 is nicer than the Makita/CCR collets, esp. that it allows more sizes and that the nut will pull the collet out.
Mine has been running great too. I echo what @WillAdams says and having the collets come out with the but is nice. Makes jobs with multiple shank sizes easier.
The only aspect I don't like is not being able to run 3/8" collets. But that is minor and I only really used it for things like dial indicators.
For what it's worth, the design works because an ER11 shaft can fit through a bearing with a 15mm bore (if I remember the dimension correctly) so it was conceptually simple to change from proprietary collets to ER11, once we got through the language barrier. Moving to ER16 would totally change the construction from the standard compact router we carry now.
ER11 is a fitting size for the capabilites of the complete machine.
Since the cat is out… here are some pics of the C3D version. It's worked great thus far and the ER system is nicer than the Makita collet system to use. Note the shiny strip…I measured RPM with an optical tach. I got 10,000-31,000 RPM. That gives it a really broad RPM range.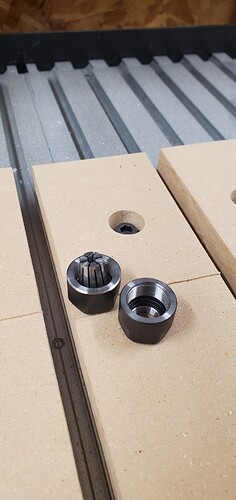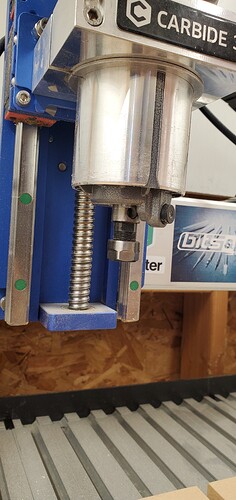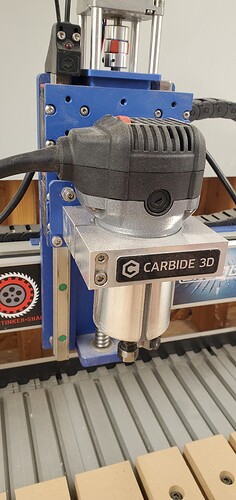 Yes I have had this unit on my machine since I was sent it to test. Very very happy with its performance. I use my machine on pretty much aluminum only projects and it has handled it excellently.
Really sucks that companies have such poor ethics to steal this design and resell to a competitor. But now a days is anyone really suprised…
OMG. My Muse. This concept has given me an awesome idea for a product…probably only needed by me. Parts are on order… thank you for the inspiration. A (slick) solution to a problem I caused (on my Shapeoko).
Sorry to hear this,
These are major problems across pretty much every sector I have seen using China for manufacturing.
The first issue is exactly what you're seen, a 'customer confidential' design is shared and re-shared and sold to other customers and then other factories and resellers to clone. There simply does not seem to be a culture of even considering 'intellectual property' it's not that people happily violate IP, they just don't seem to think about it to start with, if you can find out how to make something you should.
This is exacerbated by the 'ghost factory' problem which is that, whatever factory you are shown as the new, high tech, high quality, place where your stuff will get made, 10 other people have already purchased 100% each of the capacity, everyone is buying the show house. What really happens is all the orders are subcontracted to other factories, who then re-sub-contract the orders out again until nobody has a clue where stuff is actually being manufactured and you might as well have printed the design drawings in the local newspaper.
Then there is the 'ghost shift' problem where factories run additional overnight or weekend shifts on the same equipment and frequently the same supply chains to produce knock-offs of the primary product, this is where a lot of the no-name spare parts for phones etc. come from, they really are as good as the original.
There are a few folks who have tried to limit this by only allowing each supply chain in region to make one sub-assembly and never telling them where the other parts are, e.g. make the shaft and collet but don't tell them whose router body it goes in. You then have to do the assembly somewhere else but you generally need to do that anyway to have any QA as parts from the 'same factory' could have come from anywhere and the QA is up to you, nobody else will do it for you.
In other cases people agree to share the dev cost with the Chinese partner who acquires the rights to re-sell the design to others, basically recognising that this will happen anyway.
IP laws are developing in China but realistically you have to be a company which is majority Chinese owned and have a good relationship with somebody senior in the government for them to be applied (you know, just like how Wall Street banks aren't regulated).
This topic was automatically closed after 30 days. New replies are no longer allowed.