This is a check-in with the sages on what surface finish an SO3 can achieve in aluminum. I know it's a remix of other discussions, but perhaps something new and useful could surface.
To start with, the setup:
Machine: SO3 XL with Z-plus and MDF spoilboard. Carbide router.
Machining parameters:
Spindle = 18600 rpm (setting 3 on carbide router. Should be 18250, but I didn't double check that before running. For carbide router setting to speed conversion chart, see V Bit Noob Question - #10 by Cemrey22)
Endmill: Square ended, 2 flute, 0.250 diameter HSS, ~1.7" stickout from collet.
CAM: HSMworks
Direction: Climb cutting
Cutting feedrate: 48 in/min,
Feed per tooth: 0.0013"
Stepdown: 0.015" per pass
No lubrication, but does use air blast
Material: 6061 aluminum extrusion. Probably T6
First did roughing pass with 0.006" stock to leave. Followed by a full-depth double finishing pass.
The surface finish was …passable… I suppose, but I'd like to tune it in. See images below for surface finish and chips.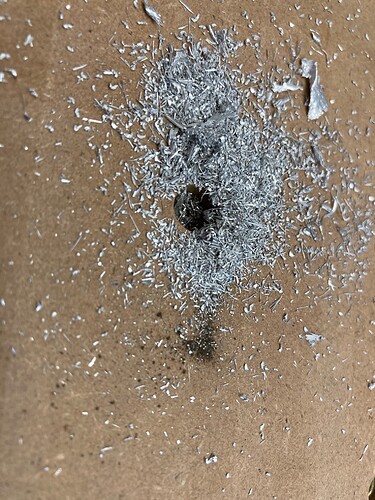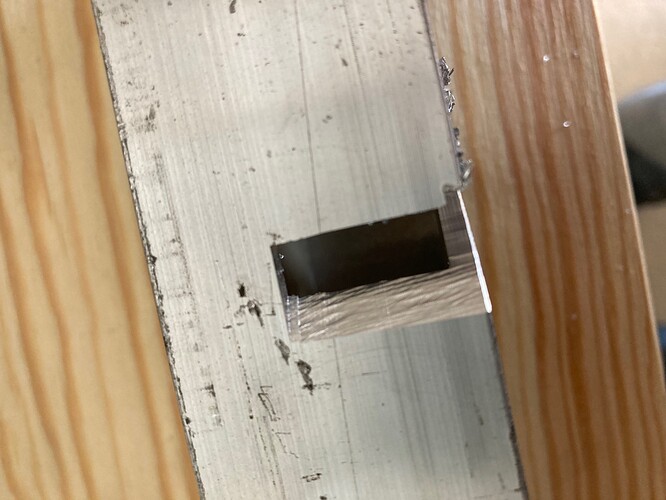 These are my questions:
How much does HSS vs carbide matter for aluminum?
The cut is 0.9" deep. The tool stickout is 1.7". I understand this will affect surface finish due to rigidity and chatter. If I could be at 1" stickout, would you expect substantially better finish?
The chips are very small. Not dust, but definitely note chips, and the collet was quite hot when it was done. Is this normal? I increased feedrate to 200% during milling. Any suggestions on how to get better chips? I would think a 0.0013" chip thickness would work, but perhaps there's a better idea?
I haven't sprung for a single flute 0.250" end mill, would that make life lots better? Any suggestions on lower cost single flute options? The cheap ones online are metric but the Carbide collet is 0.250".
I have some small holes that I use a boring CAM path on and an 0.125" square end mill. It clogged up with chips. Is there single flute options at that diameter and would that help me?
You can't see it in the photos, but the 2 flute endmill did not give a good bottom of pocket surface finish. Any best practices to improve floor of a pocket?
Thanks for any advice,
Adam