Greetings - I'm a new user and just put together my Shapeoko 3 XL last week. Assembly and first tests went well, and I'm looking forward to a fun summer.

The biggest thing that's left me scratching my head about is the specified cutting area as it relates to the spoilboard inside the machine frame. The XL has a cutting area of 17x33 inches, but I've never seen mentioned the fact that 2 inches of that 17 inch Y axis travel are outside the frame.
I've also never seen any photos of the XL or other sizes which show any modifications or accommodations for supporting work outside the machine frame. Lots of fancy T-track, threaded inserts, or aluminum extrusions for clamping, but none of them are made to support or clamp work as large as the machine can cut… is that weird, or am I? When I realized this quirk and couldn't find anything about it, I thought I must have somehow assembled the machine incorrectly in some way…
I'd love to know what others are doing to support work outside the frame or factory spoilboard? My work with the machine will mainly be using sheet stock, plywood, and composites, and I'll be using every square inch I can reach…
Here's a pic of the built-up and out spoilboard I installed: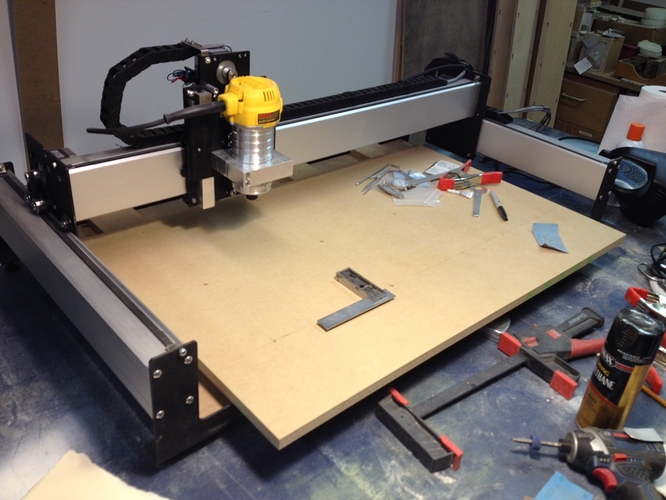 Strips of 3/4" MDF to rase the height above the frame, then a big 3/4" MDF spoilboard cantilevered out about 4 inches - the upper board is oversized for clamping work outside cutting area. This seems to be a solution that will work for me, just find it curious that it doesn't seem to be a common topic.