My shapeoko is sitting in a tight enclosure, and I was getting tired of vacuuming on the sides and back of the machine, especially when cutting metal with no dust boot. I saw this guy in a youtube video (can't find it again…) that had 3D-printed long covers and installed them on the sides, and I thought it was a neat idea to address that concern, so here's my first go at it: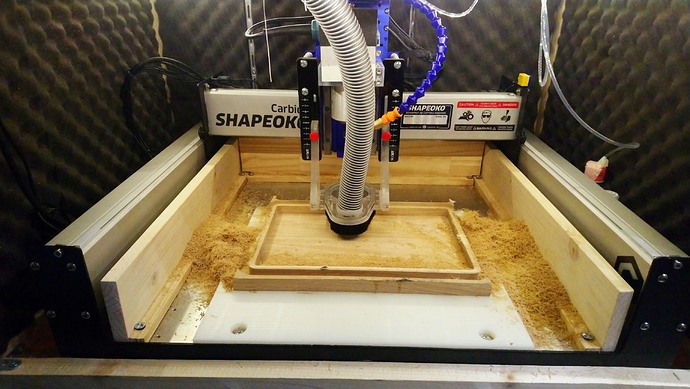 The pine covers look out of place and ruin the looks of my beloved aluminium bed, but as a prototype it worked just fine and makes a great job of containing the chips within an easy to clean boundary. I'll probably redo them in a nicer material.
Side note: I did use the dust shoe, but this very deep pocket means loss of suction near the end of the job…and I was testing full-depth adaptive clearing on oak, so I also wanted to take a good look at those chips. So satisfying

I rarely see any of these cover/guards/fence thingies on this forum, so never thought about it before.