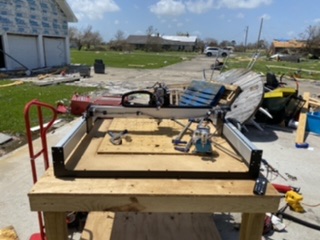 Even though my house was destroyed by Hurricane Laura my shapeoko was still standing.
Glad to hear the Shapeoko made it, but very sorry to hear about your home.
@bfitkin Brad, she was a fickle beast! My DIL's brother lives in an old metal building home and just had some of the metal roofing lift and fold over. Hopefully, by now he considers himself really lucky. Perhaps you'll be able to get that machine back into a better shop than you had before?
Holy smokes! You're in Louisiana?
Thank guys. New shop indeed. Yeah I am about 20 miles south of Lake Charles, La.