Hello all!
I've just started thinking about building a table + enclosure for Nomad, and I thought I'd throw my ideas out here for your thoughts–I have no doubt the collective experience here will improve my very basic idea.
So I'm thinking I'd like a wheeled table/cabinet to support my Nomad. As I envision it now, it would have wooden walls/soundproofing on three sides and on/under the work surface, with plexiglass in front. The top would normally rest on the sides, but would fold away; the top would also have an aperture for a vacuum hose. I can imagine using it while I stand, in which case I'd be wanting a surface 46" off the floor, or sitting down, in which case I'd want a surface 29" off the floor–I haven't decided which way I want to go with that yet.
So here's a (very quick and dirty) sketch of what I have in mind: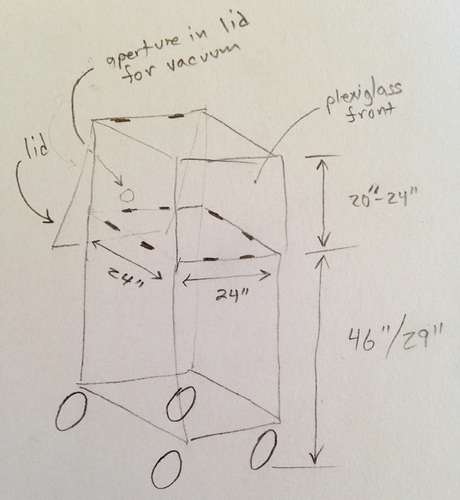 Some miscellaneous considerations:
The bottom cabinet may tend to amplify machine noise, like a musical instrument (but I'm not certain about that).
The work surface has to support the 50+ pounds of the Nomad.
There will have to be air inlets (probably on the top side?) for the vacuum to work.
The plexiglass front may make the rest of the sound proofing pointless (don't know though).
Lights could be added to the top/sides for illumination within the enclosure, probably powered from a power strip in the bottom part.
An external panic switch might be a good idea (to save the time of opening the enclosure to turn it off in an emergency).
Anyway, any and all thoughts welcome–no idea is too small!
Thanks a bunch,
Tito