I have the BitSetter on my Pro XXL and have gotten into a habit of using the pendant to disable the spindle when changing blades.
About 4 hours into a cut I needed to replace the 1/4" end mill with the Vee bit. Stupidly I forgot to re-enable the spindle. My dust collector is pretty loud so I didn't notice for about 15 seconds. I turned it on at that point instead of killing the job. I took note of the line of gcode it was on figuring I would go back and re-run the lines between the bit change and where I turned on the spindle and hope.
Once the job was finished I realized that wouldn't work. I can only assume that when the bit lowered and started in the Y direction without actually spinning that it created some slippage in Y. The effect was sort of cool in spots but definitely not what I was going for.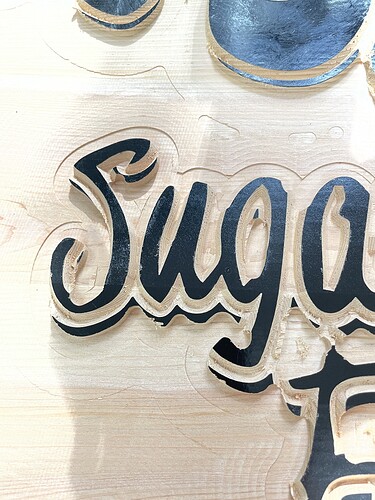 I flattened the board after this so that I can start again. Other than a tramming issue I need to take care of it all worked Ok so no permanent damage I think.
Lesson Learned: Turn on the spindle