Finally tackled a project I've had on my mind for about 5 years, ever since I got a laser cutter/engraver. Funnily, the Shapeoko beat the laser to the punch.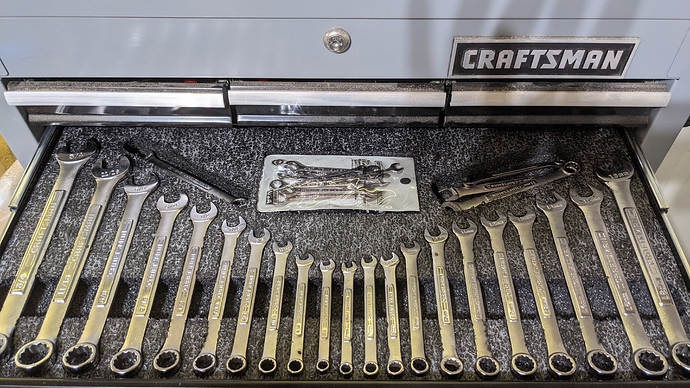 Bought some 1.7pcf 1" thick foam sheets (arrive flat, not rolled), and stuck them down to the bed with double sided foam after cutting to size with a box knife. I ran my router near the top of the RPM range, and tried a few different feedrates though didn't notice a huge difference.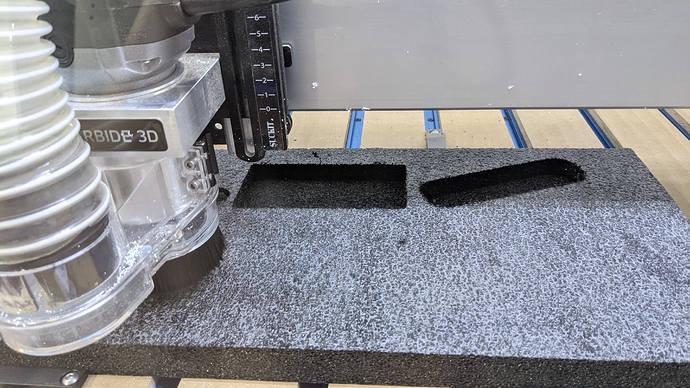 Got the best results using a 201 for large pocket clearing, with dust collection always running to suck up the threads. I then switched to an 1/8" upcut for contouring and the smaller wrench pockets. This seemed to work ok even though it was climb milled, which seems to be against recommendations.
As always, Winston had a video that was helpful, though a lot more experimentation is needed to dial things on my my setup.

If I reproduced this on the laser I would need to laminate foam layers together or cross my fingers and hope dialing the power settings would give fine enough depth control (unlikely). This could offer cool opportunities like a different color for the bottom solid layer(s), but would require more work to achieve different pocket depths like I used here.