I hesitated a long, long time before putting 100$ in a tramming device (after using the "bent hanger" method and a variety of things in between), but finally gave in to gear lust (again…sigh), and got the Mini Pro Tram, and I must say tramming ALMOST becomes a rewarding experience.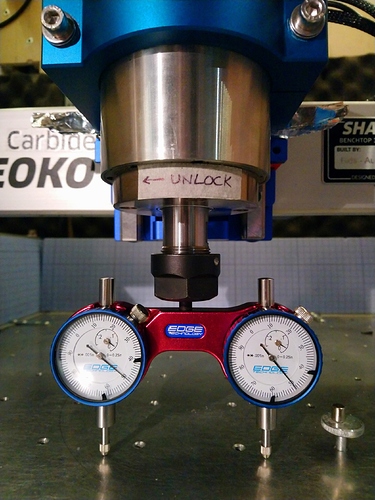 The left/right tramming was the easiest thanks to Luke's eccentric nuts tramming system (BUT it still took more a good ten tries to get it perfect, since fastening everything tight changes the tramming just enough to be off by a tiny bit).
The front/back tramming, that was another story, I had to play "fold the exact right amount of aluminium foil" game for 30 min. While I was able to reach "perfect" tramming on left/right, I could not get the two indicators closer than 4 thou apart on the front/back direction, but decided to call it good enough.
All in all, the difficulty of tramming is in the mechanical adjustements, but the Pro Tram at least got the measurement precision hassle out of the way, it's a breeze to use (well for 100$, it'd better be)
By the way I have no idea, what do YOU consider good enough tramming to be?