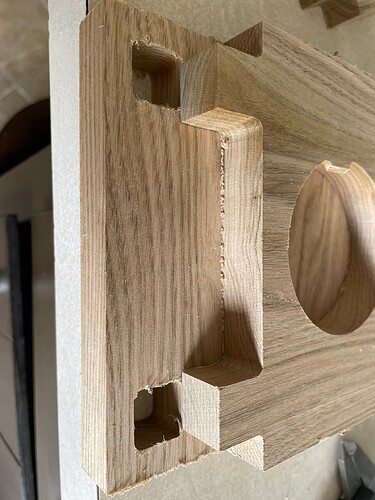 Hamster Hideout.c2d (54.7 KB)
I am not sure if what I am trying to do is called slot and tab or something else. Sorry for my ignorance.
I had a customer request for me to build a hamster hideout. The way I designed it was for the customer to easily assemble and for me to be able to ship it flat.
I realized when I was doing the tool paths that my tabs were going to be too small for the slots so then I added the 1/4" for bit size. So everything looked good in the simulation but when I cut the project out, it's like I am trying to fit a square tab into a rounded slot? Plus my tabs and slots don't line up which I was very precise where I put them. It's like they are off by a 1/4". I'm clearly missing something and I don't know what I'm doing.
Do I need to use a smaller bit to get a more square slot? And why are my tabs and slots not lining up?