Hi!
I am having alot of movement in my v-wheels, especially the ones for the ones holding the z-axis plate to the x-axis.
This is causing alot of chatter no matter what speeds/feeds/depth I try to use. (In wood!

)
I have checked the spacers in the v-wheels using a micrometer and a digital caliper I am pretty sure its not the the spacer that is out of tolerance like I have seen many have had trouble with.
Its not the outer part of the bearing that is moving in the v-wheel assembly.
I can move the inner rings in the bearings about 0.1mm back and forth in an assembled v-wheel.
This appear to be in all the v-wheels but as far as I can understand its only the z-axis (in x-axis direction) which in actually experiencing much axial loads.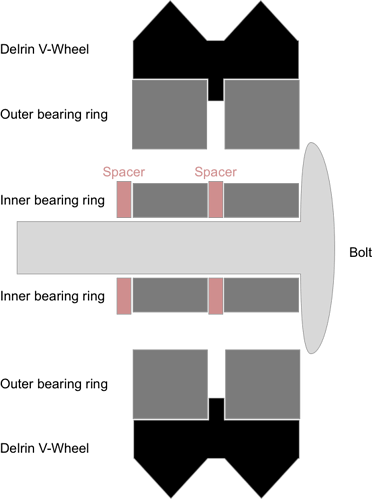 The thing I am wondering about is, what is actually stopping the assembly from moving in the axial direction (thrust)?
The "Inner bearing ring" is easily moved with just my fingers while holding the assembly in my hand.
The SO3 is just used for <10 hours and I have experienced this issues since first usage… :-/
Hope to hear from you guys!