I just received my Nomad 883 Pro yesterday and I'm trying to understand Meshcam. My first task is to cut a bracket out of .188 thick 6061 aluminum. The thickness of the stock is equal to the thickness of the bracket I want to make so I basically just need to cut the part out of the flat stock. Anyway, I am trying to use the automatic toolpath wizard. It tells me that a roughing tool is not needed, and it wants to only use waterline finish and pencil finish. I set up the 1/8 endmill that came with the machine in the tool library. I set the defaults according to a YouTube video by Winston at Carbide 3D.
When I accept and finish, the step down under waterline changes to .0625 instead of .01. Also, does the default RPM and feedrate apply here? I can edit the feedrate in the tool setup and the estimated machine time is unaffected. If I override the step down to .01 in, the the estimated machining time goes from 7 minutes to 43 minutes. Does this seem reasonable? One last thing is that when I open the G-code in notepad, I seem to see two strange feedrate values at 203.2 and 254.0.
code reference:
M6 T102
M3 S10000
G0X0.000Y0.000Z2.540
(Waterline Finish)
G0X19.244Y18.025
G1A0.000Z-0.254F203.2
G1F254.0
image for reference: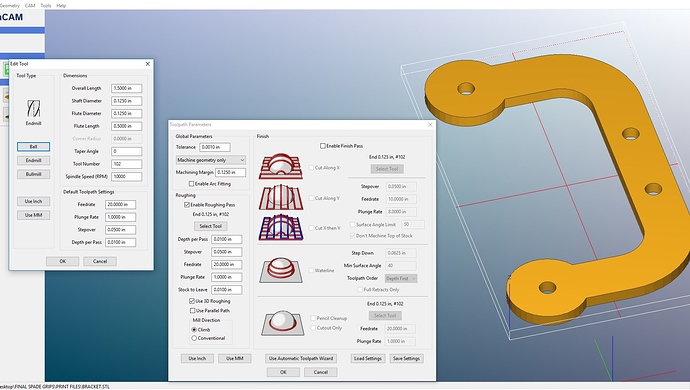 Also, the overall stock size is 3.5"x6.0"x.188"
Edit: just realized the feedrates are in mm for 10 inches and 8 inches