We recently just assembled our Shapeoko XXL in a high school computer lab/classroom. I wanted to share photos of our enclosure and workbench setup so that any other educators or DIYers may benefit from seeing our solution to operating the CNC machine in an unconventional work environment that must stay dust-free.
The enclosure sits on top of the workbench as a separate piece and is locked down with clasps on the sides for safety purposes as well as for creating a seal to prevent dust from escaping the enclosure. The front door has also been lined with rubber seals and uses a hasp lock to prevent students from accessing the machine when the router is in operation as another safety measure.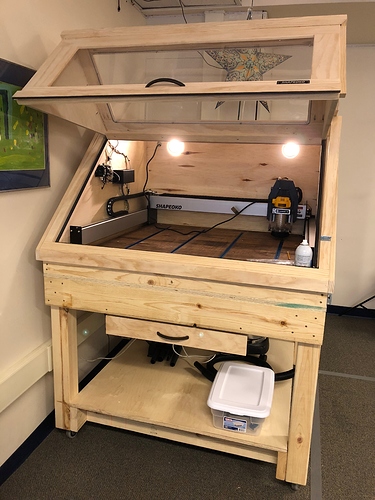 The Suckit Pro "Directed Suction" attachment has worked incredibly well so far, and it is connected to a 4.5hp Shop-Vac that sits below on the workbench. The router is fairly quiet in the enclosure, but the Shop-Vac is quite loud. We will be adding an enclosure for just the vacuum that will be lined with blue board insulation to help reduce the noise.
Feel free to offer suggestions or ask questions if you are also setting up shop in a similar environment.