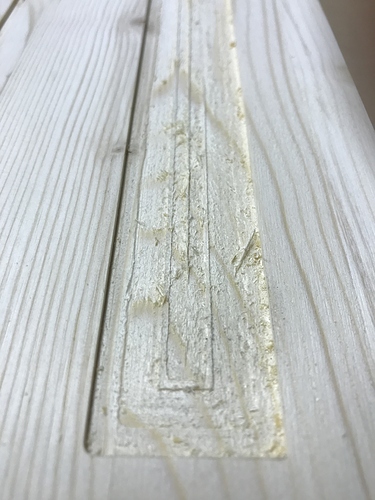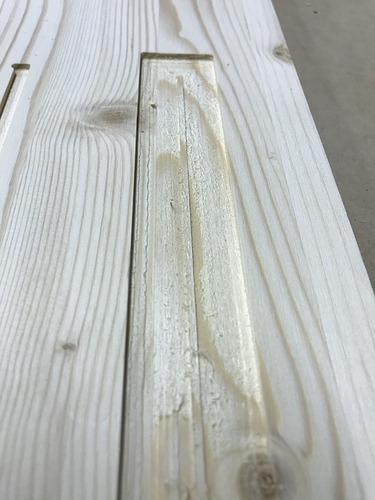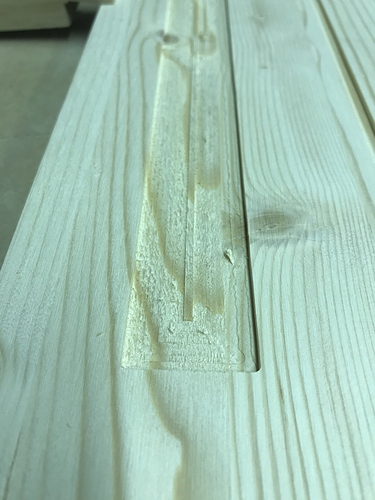 I posted the other day that I just started having a problem when v carving some stars for a flag, in the middle of work piece it was rounding the points of stars instead of sharp crisp points. As you get closer to edge of wood piece it would progressively get better. This was on a 11" wide piece I was doing and have done several others before without this problem.
Today I went to cut stripes for a flag, on a 16"x30" piece of wood. The very first stripe I cut was cutting deep as it stared in the middle and barely cutting as it got to right edge. It ran 2 passes to complete the depth and left a very rough cut and actually left uneven cuts as shown in pictures. I measured depth of cut which was set for .070 max depth and on the right end , which is middle of wood because it's beside the union, it cut to .097 and on the right end it cut .068. The next stripe started to cut and I stopped it, measured depth on it, and it was .087 on left and .048 on right, depth of cut per pass set at.035.
I have done several of these projects without these issues, but all of a sudden I started getting this problem.
I also cut these same stripes on a different project but ran the stripes up/down (y axis) instead of left and right, measured those stripe depths and they are fine. What could be going on? Thanks