Hey all! New to CNC (but not engineering) so still getting my feet wet:
I designed some simple card-holders for a board game my friends and I play. About 1"x1"x20". I designed them to make a batch of 7 out of some long pieces of 2x12 (pine). The slope on the card holders is 40 degrees off of vertical. The fanciness with the extra stock is to ensure that I don't crash the sweepy into my stock, as my maximum cutting depth is ~1" and I need to get to the bottom of my 1.5" deep stock.
3d pocket clearing for the bulk of the material, parallel toolpaths for finishing. At the time, I didn't have a ball-nose so it's all with the carbide 201 (1/4"; flat), so I performed both length-wise passes and perpendicular passes. The attached figures give you an idea of what's going on (the parallel toolpath has been edited to make it easier to see in a picture - the true path has 1/5th the stepover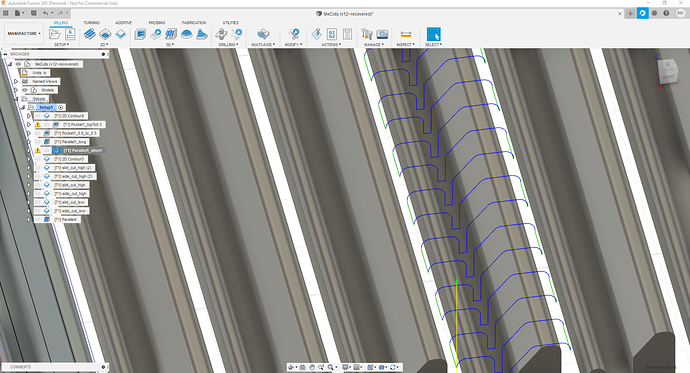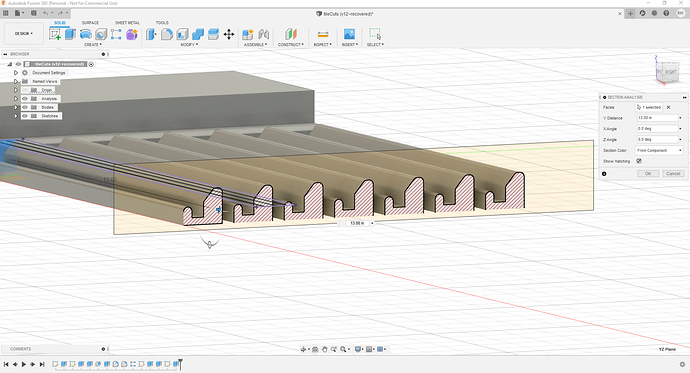 To my surprise, the resulting finish was very good as the endmill travelled upwards on the workpiece, but then significantly roughed the piece back up as it travelled downwards. A very surprising result! I reproduced this result with my ball-nosed 1/4" endmill which recently arrived. In short, the surface finish is much better if I only perform up-milling passes.
In this figure, the upper-right is a (slightly worse version of) the surface finish from up+down milling, whereas everything else is the surface finish from up-milling only.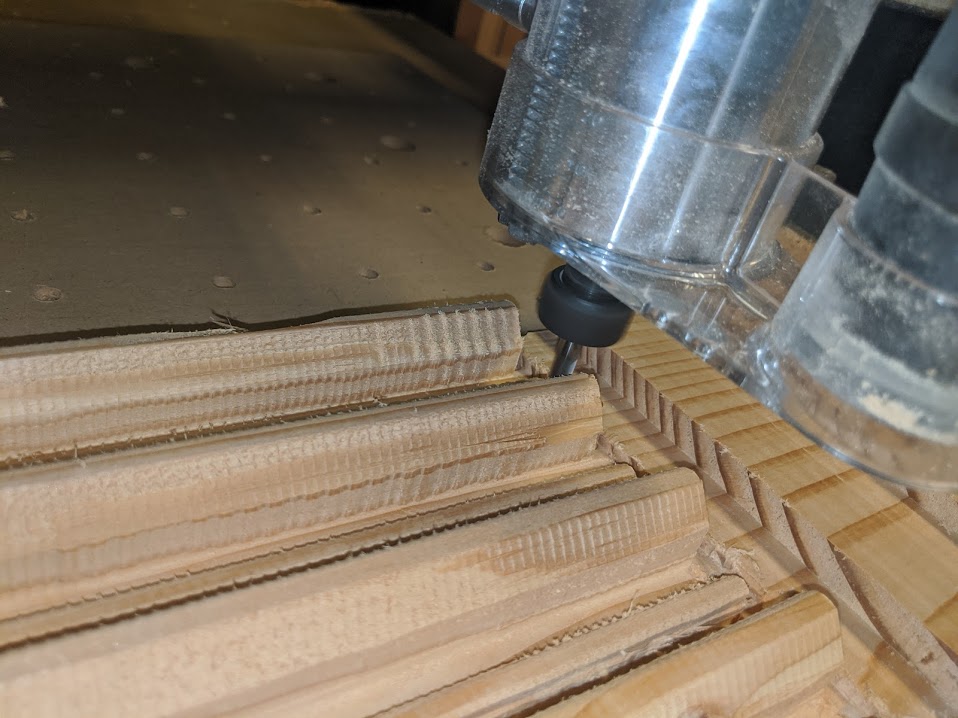 So I have three questions:
Why is this happening? I would expect to see similar performance on up-milling versus down
If I were using a ball-nosed endmill, would it be reasonable to simply perform a parallel toolpath along the length of the part and expect good results with a 1/4" endmill?
While making this piece, my endmill slipped out of the collet three(!!!) times during my 3d pocket op: halving the DOC made the problems go away. I suspect that this is because my feeds+speeds were way too aggressive (80 IPM; 0.4" DOC, which includes slots as it passes between the individual holders). I suspect that since the 201 is an up-cutting mill, the upwards force trying to pull material away pulled the endmill down, out of the collet. Am I correct?
3b. I think the right answer would have been to use an adaptive clearing, something like 0.5"-0.75" stepdown, 80ish IPM, but with a very shallow stepover ~1/3-1/6 cutter diameter). Only downside is that sliding between the slots will limit the MRR of adaptive with those little spirals. Thoughts?
Thanks guys!