Ok, all is repaired and good to go.
Did you have a folder ANIMALS - I was trying to move the one I had back up there and looked like your disappeared. Please check that one and sorry for the screw-up on my part.
If the license permits, would you want to upload these to the wiki?
Send me a PM w/ your e-mail address if you'd like an account.
I've placed my collection of useful stuff onto a Google drive folder too. Like @Wannabe_Maker, most of these I do not own the rights to, so use at your own risk for whatever purpose. There are two folders. @Wannabe_Maker, if you want to add these to your repository, that's fine with me.
This one is exclusively vector material:
Vector Material
At the moment, has a nearly complete set of F1 track maps, and a library of digital joints (dxf and iges)
This one has all of that, plus a number of raster images that would make easy conversions to vector. Has some grates, a lot of "ornamentation" vector/raster images that would be good sources of stuff, a bunch of frames, and a number of aircraft company logos (American Aviation, De-havilland, Vultee, Focke Wulf, Vultee, Messerchmit, Tupolev)
Source Material
Just bringing this back up for everyone new to see…
@jdg3 you should add your new collection to this aswell,Thanks for sharing btw

Crap. I should've done a search first. I remember this now


I'll start moving


Edit: you can't upload to this folder, only download.
So I'll just add my link:
https://drive.google.com/drive/folders/0B21DFC76Ok3KNTE1RWlMcWU3azA?usp=sharing
Added some religious .stl's today

6/28/17
Whole folder of Horoscope .stl

07/02/17
I added almost 6GB of data. Send me a message if you want to help rearrange this folder and manage it going forward.
I restricted access due to someone accidentally deleting all of the content lol
Just a thought…it would be nice if there were jpg images in the STL and DXF folder to see what the STL/DXF images look like in the folder.
These are files that I've collected from the net, it would be a lot of work to organize them in that way. if someone wants to do that, I am all for granting them access to do so

That extension reports that the STLs are too big; there's apparently a 50M limit (the Harley one was the only one it could open).
It being that time of year, here are my Fusion360 models of F1 track maps, mostly current for the 2018 season, but might be missing one or two, with a couple favorites thrown in. Note that each has two sketches, one with the start/finish (the circle/hole) and some width to make a reasonable looking model, and a second sketch that is just the track centerline for whatever use. I'm happy to do others on request, just PM me.
So, really dumb question here. How do I get rid of all the sketch points on the drawings in F 360? I can only extrude 4 parts in this example.
Just muddlin' through here.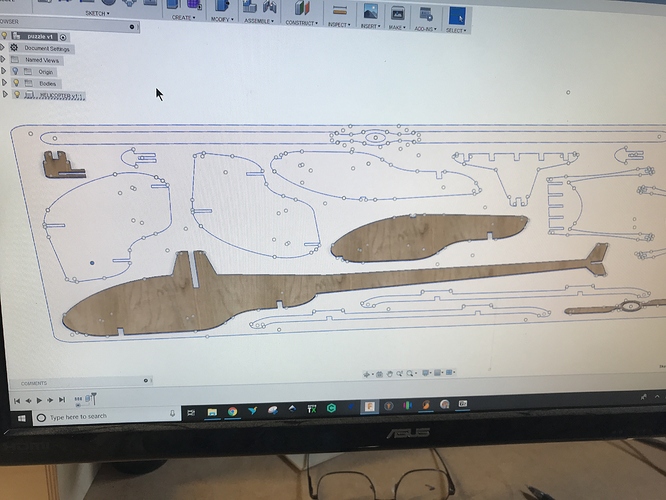 Thanks for all the drawings, hope I'm smart enough to use 'em.
Thanks for this there are quite a few things in there that I will play around with.
Gene, Thanks for sharing.