Hey guys -
I've modelled a tele body as a test project in Rhino 3D.
My goal is to import it into Aspire (or Meshcam Pro) and mill it.
I realize I can just bring in the 2D elements and generate the toolpaths, but I'd like to try my hand at generating code from a completed model (if this is possible).
Here is my initial setup:

The problem I'm running into in Aspire is then when I import the model and attempt to run a roughing toolpath, I receive the following error: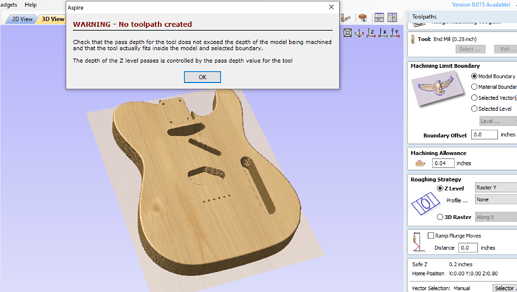 I'm curious if this is being thrown because the neck pocket and string holes are smaller than the.25 EM I'm using for the roughing pass. If so, is there a way to ignore those for the rouging / finishing passes?
Thanks in advance.
I've attempted this in MeshCam as well but I'm not sure how to isolate items / don't really understand how MeshCam works.
Mike