Any recommendations? I was thinking of getting this one as it's from Amana & it's cheap.
I use this, I bought it to do other jobs but it does a pretty good job of trimming the wasteboard as well, not too large a diameter so the spindle tramming isn't critical to avoid peaks and valleys.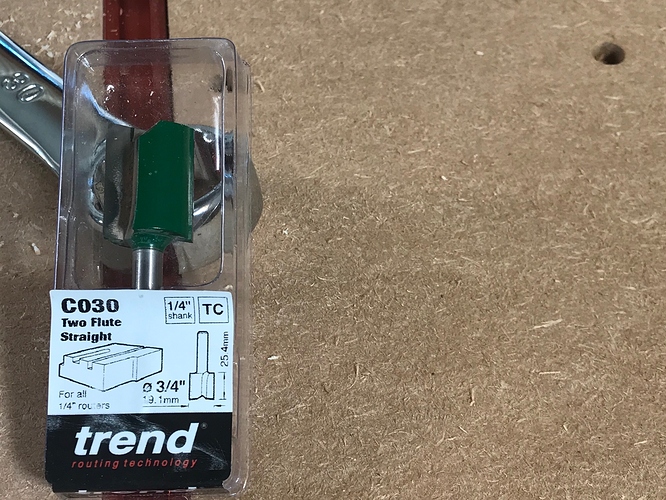 Pretty sure that's the main one that people recommend/use. Or that bit style.
I use the Whiteside version of that. But either one works great
I also use the Whiteside just be careful if you use the bitsetter. You'll need to switch it off prior to surfacing because the bitsetter's button fits nicely in the center of this bit. I'm glad I checked first or it could have been an expensive crunch.
I purchased the bitsetter long time ago and it is still setting in its box. I did not have the chance to install it yet.
Just be careful not to plunge that bit into material - it will fail catastrophically – ask me how I know.

Are you trying to tell me not to use it to surface my aluminum work piece first before the final cut?
No - I would think it would do alright to surface aluminum (in very conservative depth of cut) but what I am saying is try to enter the stock from the side as opposed to plunging straight down. Those style cutters have no flutes in the center so if you plunge too deep there is nothing to cut the material in the center of the bit and it will bottom out. If you are taking super light depth cuts, plunging should not be an issue.
I have the whiteside bit as well. I had a small (but bigger than the bitsetter button) piece of scrap wood handy, and just put that on top of the button… bitsetter worked great that way

I ended up doing that as well but wasn't sure if would be considered proper or a hack

With the bitsetter measurements being relative I didn't think it should cause any issues if all the tools in the set-up used the same spacer. It worked fine. I normally only use this bit in a one tool operation to surface the waste board and rehome before starting any other project.
What is the common depth you lads use to shear off when surfacing your wasteboard?
First time around I measured Z depth in four corners and the middle, figured out the depth needed to level it and ran that, it was < 1mm
Now I generally take off a 0.25mm or 0.5mm layer dependent upon how messed up the surface is.
It really depends on why I'm resurfacing. If it's just a cleanup of fuzzies and starting mostly flat then .010 - .020" is usually good enough. If I've moved the machine or made a mistake I'll measure in a few places to try and find the high and low spots to see what is needed. I try to take off as little as possible to make the spoil board last longer. Even if there is a witness mark or two remaining on the spoil board it's OK as long as they don't prevent mounting a part flat.
@ispot Just as a heads up, I would take the recommendations of @RichCournoyer when it comes to surfacing, His method takes longer but it the results are worth it. here is a link to a post where he detailed the process Surfacing Setup Question for 3XXL
I also love the Whitesides bit, just remember to run it in the recommended RPM range.
This topic was automatically closed 30 days after the last reply. New replies are no longer allowed.