For those of you with a 3d printer.

I just broke down and ordered a 3d printer last weekend for this exact purpose lol. Stupid festool sizes lol!
Yep,
Over here in metric land I'm using this equivalent 50mm antistatic hose which works nicely on a workshop vac and vortex separator (probably no use with a proper dust extractor with less static pressure). It fits nicely with 63mm (2.5 of the Queen's inches) waste pipe which is cheap and easily available. The ID of the spiral hose is roughly 50mm, I've found a 52 to 48mm taper with grip ridges works quite well for it.
If you have a 3D printer a spiral works really well, you screw the adapter into the hose and it stays put until you un-screw it, no clamps or other fiddling;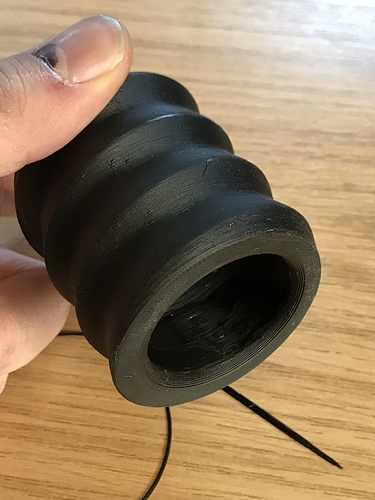 I've 3D printed extraction boots so far to avoid the hassle of shipping from the US (especially given the months of FedEx's customs billing incompetence and harassment). Here's the prototype of a version for the 80mm proper spindle;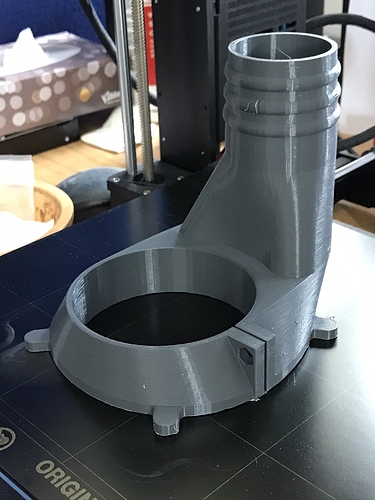 My new Festool is a CT 15 E and I am not a big fan, low suction and stupid buttons are annoying and try to get an attachment that will fit lol forget it…!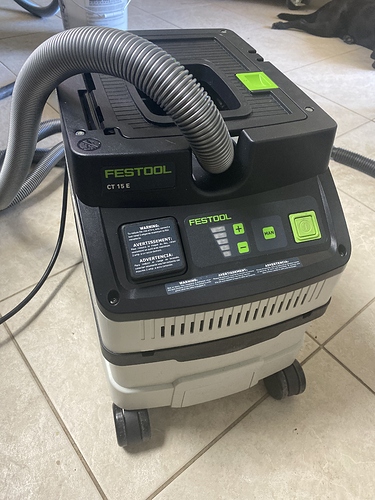 The 3D Printer I ordered is a Monoprice Voxel. I had my eye on something nicer but this will be a good starting point for making some hose adapters and learning the process. This one has a camera and wifi and also Walmart was offering 3 day shipping, everything else decent had a huge lead time.
Monoprice Voxel
The CT 15 is the lowest cost dust extracor from festool. I got two of them and what should I say they suck… The good way.
The first thing I don't like about the Ct-15:
Never fails, to turn it on I have to press the one button and wait then press the other button which half the time does not respond so I keep pressing until it turns on. The rubber button has a "unsure if it is on or not feel to it"
Is it on?? I don't know yet! It's a 2 stage operation, chill bro!
Second thing I don't like about it:
Very weak suction. My 39$ Walmart crap shop vac is out performing it.
Need an attachment? Check the website where they do not have any. Check the web where nobody has any. Check Amazon? Naa Ebay nope nada. OK tape it is!
I have the bigger brother the CT mini. And I never turn it off completely I turn it on( rubber button) and it stays in automatic mode so you can plug in a tool and it starts or you start it manually and it is intended like so… Again the CT 15 is like hey you want a festool… here we go some dirty cheap thing. Still calling a high price because festool. But you can't compare to any other vacuums of them. But if you where unhappy you could give it back the first 15 days they have that kind of policy
I did not know it stayed on like that. Guess I should have read "The directions" ! Nice looking, well made and at least it is safe for fine dust etc, so I will make good use of it.
All of this makes me really glad that I got in my order for my CT Midi before they made things so complex — it has a physical switch for power with 3 settings, and a dial for speed
Festool should not be your benchmark! lol. If I could justify Festool in my shop I'd probably by upgrading from Shapeoko, too. Think Ridgid instead.
Really, folks, run down to your nearest Home Depot, grab a bunch of hoses and fittings in the shop vacuum isle. Figure out how best to make them work with your products. That's your target market, not the Festool crowd. Not throwing any shade on Festool here. Good stuff, obviously.
I'm fortunate to have a 3D printer and I just designed and printed up an adapter to go from your Sweepy to my "dust collection" system which consists of a Ridgid vac and a nominal 2.5" hose. This has to be a custom design because Sweepy's small outlet is so close to the centerline of the router that an off-the-shelf adapter to a larger hose will not fit properly. The outlet of the custom adapter has to be offset from the inlet in order toto not interfere with the body of the router…
Related issue: the web connecting main body of Sweepy to the outlet prevents using a female hose connection. Not good, since a male connector inserted into Sweepy decreases an already very small cross-section. The web isn't really needed for structural reasons. I cut mine down by 1/2 and put a matching slot in the adapter so it would fit outside. The result is better, and quieter, flow.
I've made so many 3D printed vacuum hose adaptors I've lost count. Anything with less than a 4" connector has an adaptor on it now, regardless of if it eventually goes to may shop vac or big dust collector.
I know this was originally just a survey but you hit a hot button. Not only is the current sweepy a weird size, it basically reduces the suction on my unit so much that sweepy is useless as a dust collector on my Shapeoko. I am 100% Rockler which is 4" or 2.5" (with the adapter set for handhelds). My suckit works ok on my 2.5 feed to the CNC. Sweepy was retired after a couple of uses. (I'd say something about "The Dust Boot That Doesn't Suck" but that would be misleading)
I agree. One of the reasons I purchased the Shapeoko was because it was "made in the USA" so why they designed a dust boot that fits European adapters is beyond me. Don't get me wrong. I love my XXL and they could have put a "Made in the USA" sticker on the actual machine. The Sweepy boot is great and the support recommended the Bosch VOC 020 - which fits (albeit it is a concentric adapter where an eccentric one would fit better). Maybe Shapeoko can make one and sell it - But make it eccentric.
I have a Craftsman Tracksaw which uses the same size vacuum adapters, so there's some usage of this size fitting on this side of the pond from other American brands.
Copy that. Perhaps Shapeoko could make their own adapters inBOTH European and American standard fittings. Wonder what the marketing guys think about that?
In the mean time I'm happy with the suggested Bosch VOC020 and VERY happy with my XXL and the customer support.
It would seem to be relatively easy to make the boot with a larger (2.5" - 3") aperture port and then some step-down rings to fit inside and reduce to the OD of other size hoses.
Given the market, perhaps the step down rings could be supplies as some free to download CAD files for 3D Printing or CNC machining from plastic stock?
As per the comments above, I've printed any number of hose size adaptors, FDM printed parts generally work best when they're in compression where layer boundary weakness isn't an issue.
This topic was automatically closed 30 days after the last reply. New replies are no longer allowed.