Ray -
This looks extremely rigid. Do you have any support in the center area of your wasteboard?
I have another piece of angle iron with the same adjuster set up. unfortunately I added it as an after thought and my double thick waste board "Sagged" ooo so slightly. Not a big deal, I have an 1 1/4" fly cutter that I level the waste board with. Ray
Thanks, Ray… so you added another adjuster/angle-iron section it sounds like… XXL's have natural sag, so I am just wondering where it was added and what effect it had on your overall machine leveling? This notion of trussing the wasteboard frame vs. tramming the wasteboard is yet another exercise on my long list of TO-DO's for my Shapeoko.
What I desire to avoid is a pocketed primary wasteboard/base surface, as I want to mill "larger-than-my-cutting-area-stock", and pocketing seems to be counterproductive to that notion.
After a year or so with a SO3 with a sea of holes wasteboard I started running into various limits.
So, I got the XL upgrade kit and built a torsion box. Then a rolling cabinet to put it on. It's still a work in progress but I'm real happy with the increased y axis clearance and multiple work holding options.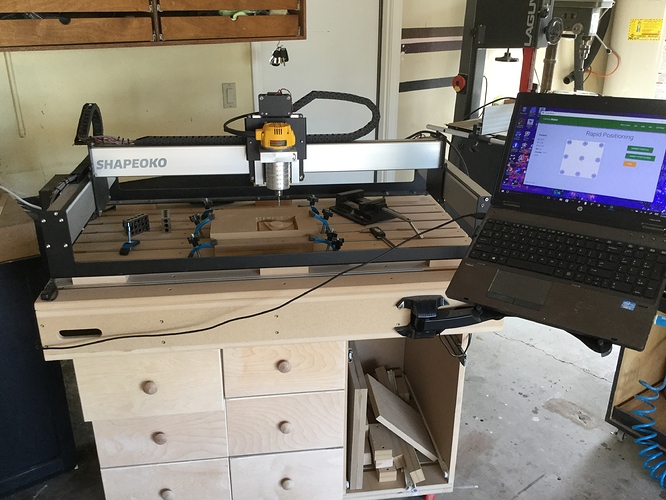 Just ran mine in the new enclosure fir the first time tonight. Purpose built the cart as well

I have two locking wheels on the cart. The other two are standard. In retrospect I would have gone with all four locking. I do like being able to move it into the middle of the shop if needed.
I also used angle iron and will not do that again. Better to just use square tubing.
I'm still working on proper dust control. I installed a 4" outlet in the back with hose and a high power shopvac. This seals the door shut so tight it cannot be opened while in operation, but doesn't pull the dust out. It just piles in the corners.
Always more to be done.
Very nice work Kevin, I'm envious.
Your shopvac needs to pull air from somewhere otherwise it's starved. Even when you fit a dustboot you will need to let air into the enclosure for it to work properly. If the air cannot get into the enclosure the vac can't suck air (and the dust) out. How to let the air in and keep the noise from getting out is a problem you have to figure out.
Nice work on the cabinet Griff. Love the laptop holder. Also the Laguna in the background looks very nice.
Thanks Kevin. I received my 10' USB cable yesterday so that problem is solved. An enclosure is next on my list. Just have to manufacture the time.
Like the LED lighting you have. And the reversed dragline on Y, that actually makes more sense.
Please note that long USB cables have been one possible cause of disconnection — hopefully it's a good quality shielded cable — if it doesn't have ferrite beads might want to look into adding them.
Griff how do you like that Laguna bandsaw? I have read mixed reviews on it and I am looking to purchase a band saw here in the next few weeks so figure I would ask your perspective. Thanks
I may be guilty of over-building again. Just got my top made tonight, using what I had laying around the shop. It will definitely be a monster when done. Shapeoko should be here tomorrow so need to get the base done!
You really don't realize how big this thing can be until you see the base…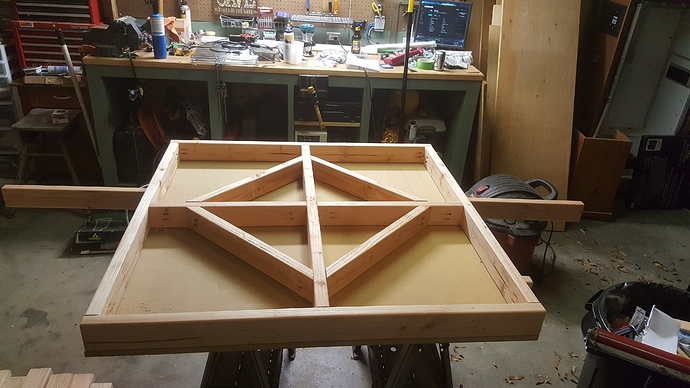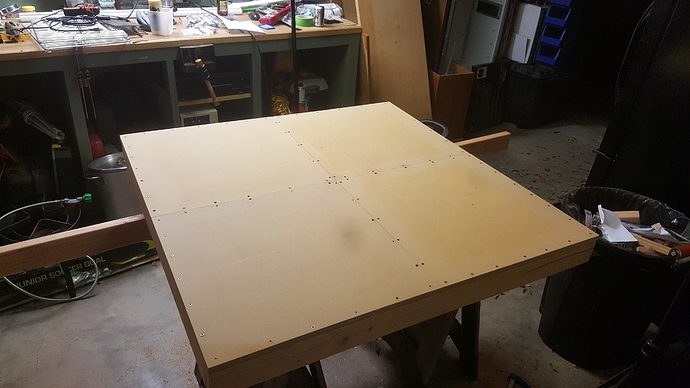 Ain't no such thing as over-building. Precision has to start somewhere, and CNC is an excellent example of the "Wonderful One Hoss Shay" problem where the thing is only as good as the weakest part.
Chad, doesn't it move around when operating? Do you lower it onto a surface and clamp it down?
Hello @howellusn I just installed the Racor lift in my garage for this exact purpose. I wonder if you have posted any pictures of your setup? Do you have any experience/advice you could share? Do you lower it onto a table to use the cnc or lowering it onto a table of some sort? Lastly, have you replaced the racor metal lattice platform with something else, or maybe attached the cables to the CNC itself?
I just installed the Racor lift for my XXL and have installed it immediately above my workshops torsion assembly table. Lowering the cnc down on to the table and using carabiners to disconnect the cables when using the cnc. I didn't want to have to deal with swinging during use.
Also, based on @howellusn's post history, FS: Shapeoko XXL in North Texas, it appears that he uses it on the cables and not on a table.
Check out Performance Tools on the Web. I ordered my Rikon 14" from them, in Michigan, and although they were further away than another supplier here in Indiana they were half the cost on delivery. I like the Rikon and I have it on a dolly with two permanent wheels and two swivel wheels that drop it solid on the floor when not moving it. That savings on delivery paid for other blades.