Whilst watching a cut today on my Shapeoko I was thinking that like me there are probably a lot of forum members who cut similar things day in and day out, and, like me never think of posting a picture in the gallery as it is "run of the mill" stuff.
Well recently I have been cutting LOTS of wooden patterns for another hobby of mine, metal casting. The advent of Advanced "V" carve with pocketing has hugely increased the complexity of the patterns I can create. The tracing facility will be a big plus also, having previously used "convertio" which limits free use to 10 mins/day.
Anyway, todays cut is my take on the United States Space Force logo, which I will attempt to cast in aluminium (or aluminum for our friends in the States!).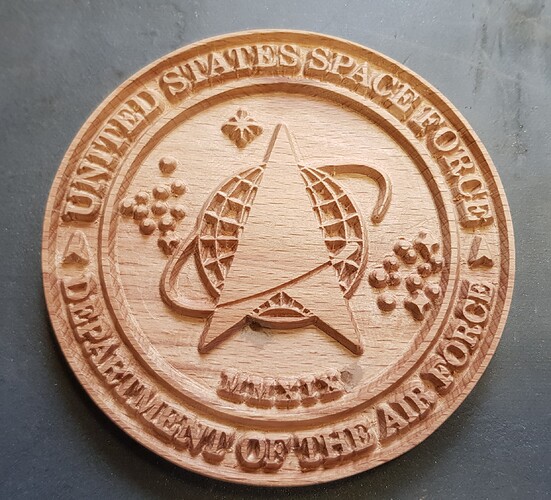 I have increased the diameter of the stars as a pin prick will not be visible on the cast version, I have also not been able to recreate the facets on the spaceship. I only have CC and if this is possible I have no idea how.
Just to give a better idea of what I am trying to achieve with this the "Victory" sign below was cut and cast, I was amazed at the ability of the Shapeoko to produce such small letters the "Made in USA", lower case letters are only 1mm tall, and have been reproduced in the sand mould and show up well on the casting, this is about 6" wide.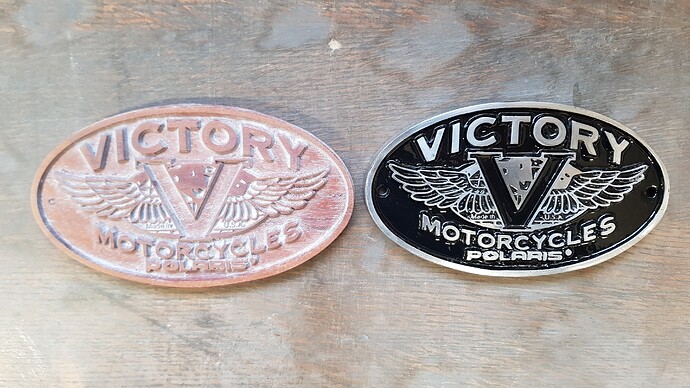 Well, that's what I have been up to. What do you cut regularly and never post about?