Rich if I remember right you have a 4th axis. So what tool did you use to cut the threads?
But no 4th was needed for this simple part or tool.
First I found an old (undersize) 3/8 HSS 2-Flute, double ended cutter (similar to this):

Next I took an Angle grinder and roughed out the shape (5 min), then over to the bench grinder and I rounded the shank (for clearance). Then I took my trusty and 50 year old 60º Guide and ground the back edge first., then the front angle (making sure I was square to the shank (by eye): (about 25 min. total start to finish)

Next I put it in my Makita 3/8 collet, spun it and measured the diameter (0.360") for Fusion. (Yeah she ain't pretty…but it works awesome…that's what counts). This tool will cut 20-8 TPI based upon the width and front flat.
Last, wrote the program, (You only need 4 pieces of info: Cutter Dia check, Pitch (1/12 = 0.083")) Check, the Thread depth (Thread Max- Thread Min= 0.080). The number of passes (this depends on the material, cutter material and how strong the machine is). I chose 0.008 dia (0.004 per side/per cut).
Posted in using the Carbide3D Fusion Post, hit start and 20 min later it was done.
PS Optical illusion here. The TOP angle is NOT curved…you are seeing some of the material behind the cutter…Bad photographer)
Questions: Ask away. I watched a NYC CNC video on thread cutting about 3 years ago…meaning I didn't figure it out…I learned from John)
Rich, thanks for the explanation. Is the blue just machinist dye you used for marking the part?
I recently got a hoard of very old taps and dies. My wife's grandfather had an oil field manufacturing company for many years. After retiring he had a workshop at home and just made all kinds of things. He was quite a craftsman and I am glad to have his tools and carry on the tradition of using them.
gdon, It is a pikler. A child's toy for my rough and tumble nephews, commissioned by their mother!
Hi everyone, happy St Patty's Day! I'm new here and am just getting started but here's what I put together over the last few days. I'm taking a leap and trying to make this a full time job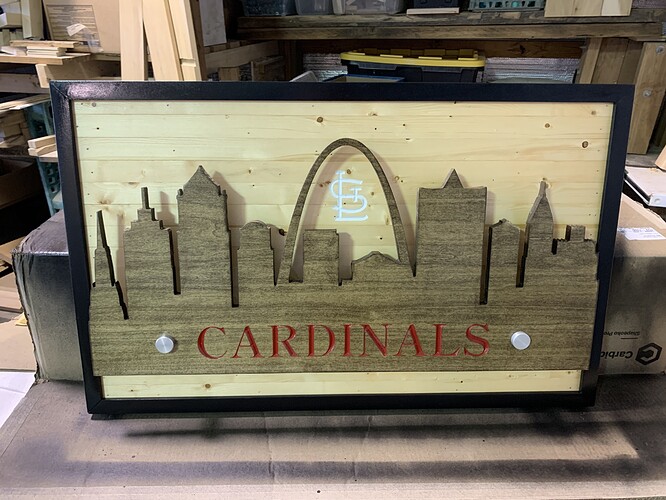 Back to making tiny little go-cart Briggs and Stratton engine blocks…
Penny for Scale (Pandemic…I didn't have a banana)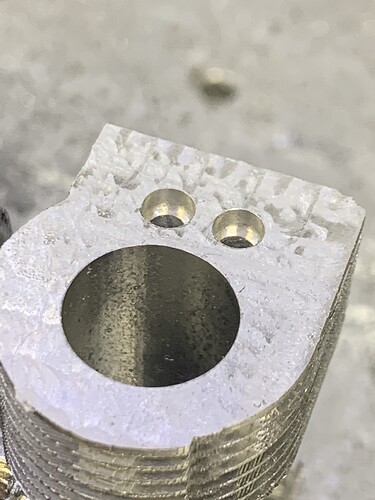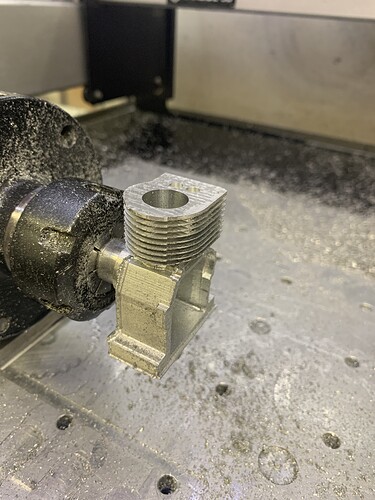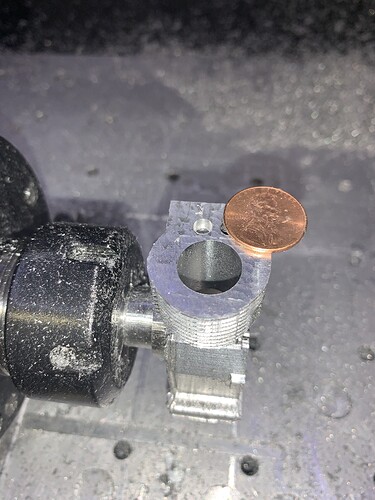 Had a rush order come in late Friday for a baptism gift for Sunday.
Some of the small lettering blew out so re faced the oak and startled again.
Finished item came of good and is currently drying so the client can collect first thing.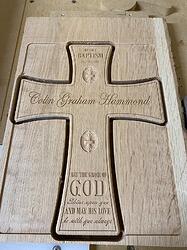 A few years ago some Catholic friends had a baptism for their baby. I had never been to a Catholic church. The service was about an hour long and was quite nice. It is nice to see people carry on centuries old traditions.
Your baptism cross is quite nice. A nice remembrance for the parents and someday the baby. You did not say what kind of finish but rattle can spray lacquer dries very fast when you need something fast.
Having had a long week, decided to cut an STL file I bought on etsy instead of doing an own design
Came out quite nice even though I defied conventional wisdom and used a 2mm flat endmill for the finishing pass… (no ballnose). A 0.008" stepover (10%) meant I did not have to sand the result and it's super smooth… more so than if I had used a ballnose.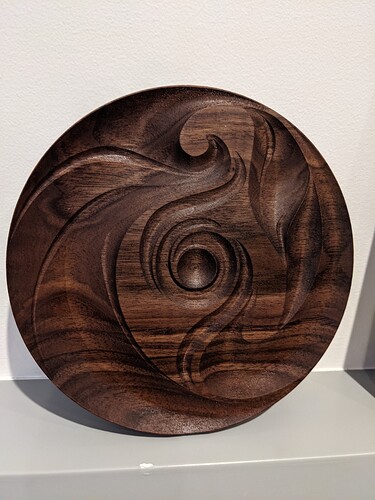 That is a new nice design. Is it a wall hanger or will you set it on a table like a bowl?
Is the wood walnut?
First attempt at vcarve inlays. Cutting board for my brother who is getting into sausage making. Cherry with maple and walnut inlays. A little on the small side since I want want to fit in the USPS padded express envelopes for the reasonable shipping cost. In hindsight should have made the text bold and more space between words.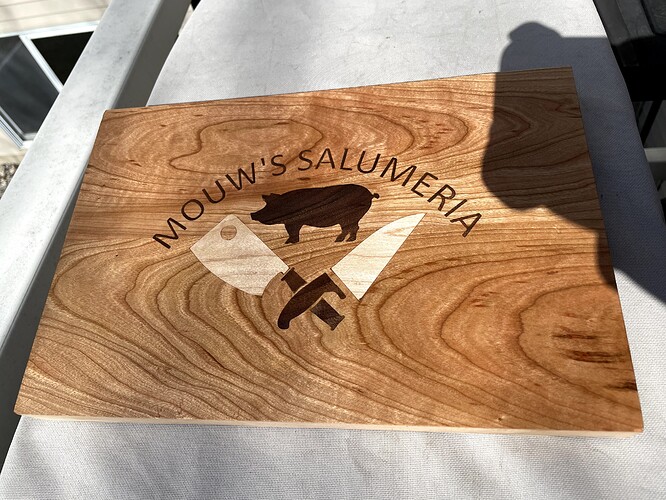 Looks really good.
I hope my first inlay comes as as good, when I find the time!
Did you use CC or another program?
I used Vectric VCARVE. You could easily do most of the design in carbide create, but I am more familiar with VCARVE at this point. The only thing that would be difficult in carbide create would be the curved text, but that could be replaced with straight text below the knifes and I think it would still be nice looking. I just found the images of the knifes and the pigs using google image search.
If anybody wants the file I would be happy to share, but it does require a copy of VCARVE.
(curved text might be possible in CC, but I don't know how to do it)
I finished a new wasteboard and made some fences for an XL. Gonna make some new cam clamps tomorrow for the wasteboard. Also gonna make a base and connector for a dust collection boom.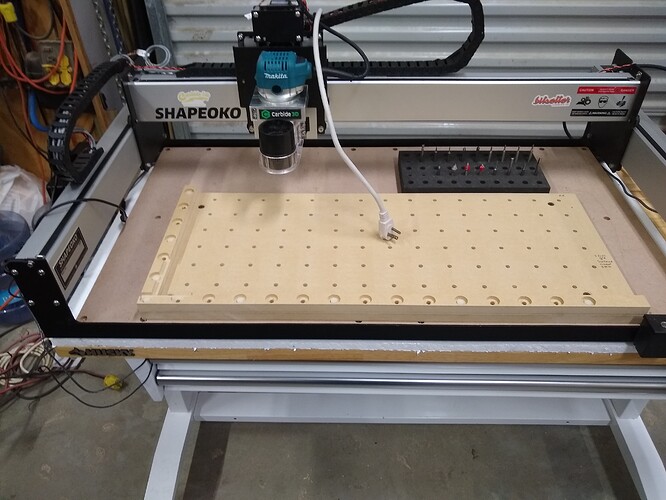 Smart cutouts for the BitZero in the corner. I was happy when I saw those on the official square. Also, your BitSetter looks naked!
Well how dare you take such liberties as looking at my naked BitSetter.
My previous and still present fence on my XXL are the Myers Woodshop design. That design never worked but I seldom use the corner on the XXL. However on the XL the real estate is more limited so I think I will use the corner more. I measured the BitZero and gave myself some room. I am currently working on a draft of the considerations of making a wasteboard for a Shapeoko. So I have been documenting how I planned, designed and cut the wasteboard. I have been taking pictures and getting ready to finalize how I made my wasteboard, optomized its size and centered and squared it when placing it on the base board.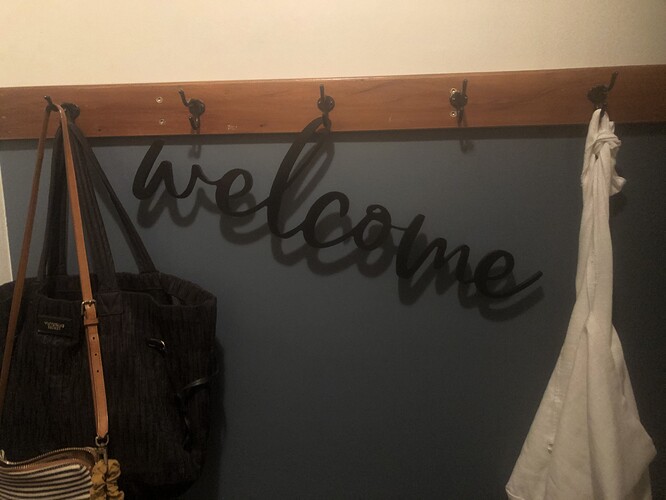 A piece that makes me thankful for having a drum sander - onion skinned and then ran it through the drum sander to separate the work piece. My wife has been asking for this cut out longer than I'd like to admit.
I have a Jet 16-32 drum sander. I cut a piece out and it did not quite make it through to the bottom. I had been using the drum sander and thought that I would just sand through the onion skin left at the botom. All went well for the first pass. Then a piece broke loose and moved and ripped by conveyor belt. I have had problems with the belt tracking to one side and had replaced it with a Kingspor belt and was working great. So I had ordered 2 when I got the one that was working. I replaced the belt and it tracks to one side. So much for saving time and effort to sand off the little bit of wood on the bottom of a project.
Oof! I actually had a mess up cut that I tested through the drum sander before I sent the good one through. I was a little worried.
I picked up a Ryobi WDS1600 last Summer for a good price after I've been patiently waiting and watching for a drum sander for a while. It's nice to have if you have the space, but I don't do production work or the same work all the time so it is underutilized.
Well the Space Force wooden pattern worked a treat and the casting came out well. I powder-coated it today and I am happy with the result. I might add that it is nowhere near as good as the set by Merick01.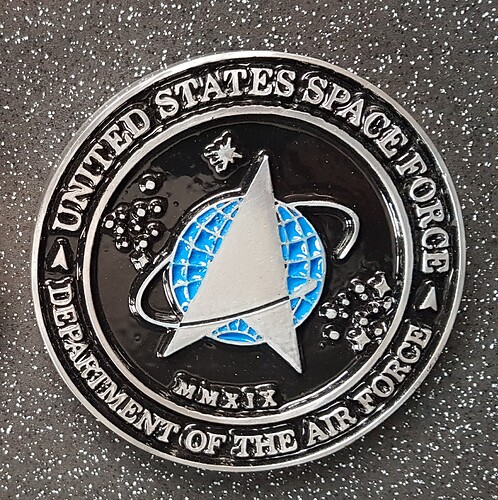 This afternoon I cut another pattern, this one is for casting in brass. It is for a friend who has a BMW R80 Cafe Racer. He has bought some retro front lights and needs somewhere to mount the equally retro light switches. The casting will be mounted on brackets secured to the handlebars. It will be about 3/8" thick (9mm).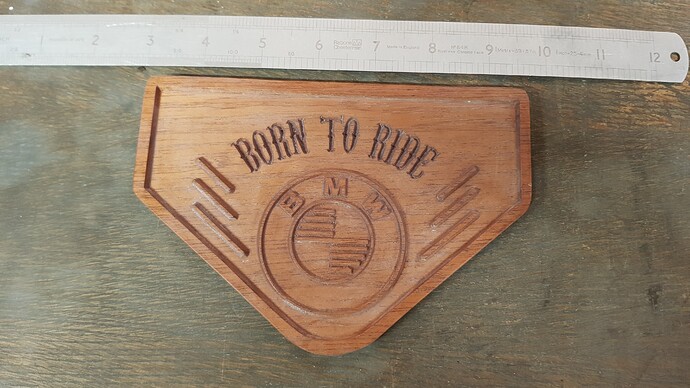 All being well casting will take place tomorrow.