Just finished my 4th and final cigar and whiskey trays. These are for a craft show coming up.
The glasses were bought on Amazon as well as the stainless steel ash trays. I pocketed the glass and ash tray and use 3d modeling to create the two half pipes. I applied Watco Danish Oil Natural on all 3. One is Oak and 3 are cherry.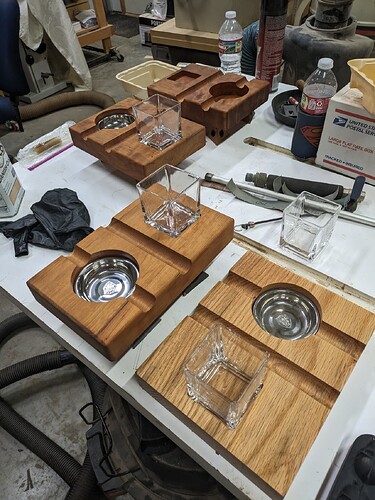 So you get a glass, ash tray and a skull ice cube mold with each one. Now you could just put ginger ale in the glass and enjoy that.
The material was laying around the shop and I trimmed each one and just made each one as big as I could. That is an advantage of using the center for origin. As long as the pockets and half pipes fit on the material I did not have to edit the c2d file for each one. This project I used the top of material and each one is about 1.5" thick. All were sanded to 150 and then the Watco applied.