I tried making some wooden knife handles for pre-fabricated knife blanks.
Double-sided
The first one is based on this double-sided damascus steel blank from http://www.damascus-blanks.com/products/damascus-high-carbon-steel-blank-blanks-blade-knife-making-knives.php (unfortunately it seems to be sold out now):
I measured the dimensions and came up with a design in Fusion 360 based on this basic shape:
After a bit of extruding, corner rounding, and subtracting a box model of the knife blank, that becomes: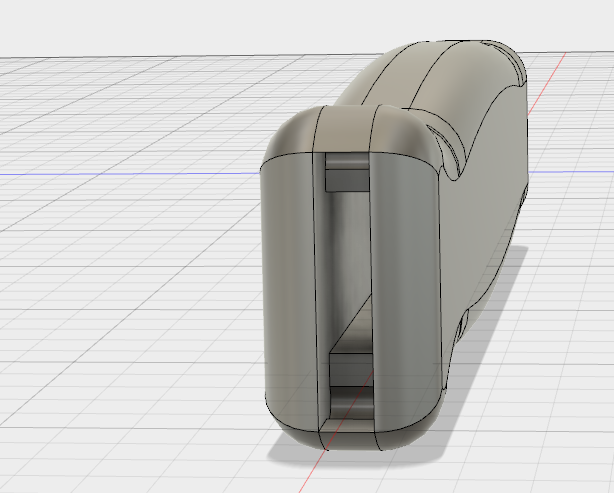 At first I split this body through the middle. The resulting two parts would have required two-sided milling, but then another article I read gave me the idea to split the body into three pieces that could be milled one-sided in one pass:
You can view and download the full 3D model at http://a360.co/1ON3pME.
I set up a Fusion 360 CAM job to produce the G-code and milled it out of some walnut boards:
This first attempt (which is not the final design shown in the CAD models above) worked, but the resulting handle looked and felt a bit too long. That length was a result of the knife blank's back part, so I cut off two centimeters of that with a hack saw and shortened the 3D model accordingly. The new version looked more pleasing, here's a comparison (first attempt on top, second, shortened, on the bottom):
The new version glued together and sanded:
After a first coat of linseed oil (I used Tried & True Danish Oil):
Single-sided
The second knife is based on a single-sided blank. I adapted the handle design from the first one and flattened the top side, among some other changes. The design for this one is at http://a360.co/1P0rNKq. I used a lighter colored wood for the middle part.
After three coats of linseed oil: