I finally got (even more) serious about dust management, and decided that whatever small amount of dust escaped my dust collection system (cyclone + Festool CT MIDI now) and enclosure was too much to let float around the small garage/workskop where I happen to spend a lot of time. Hence I installed this :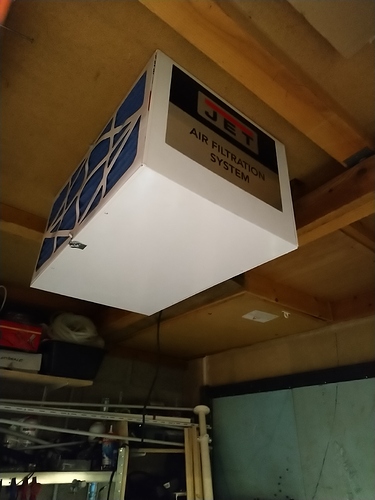 This is at the same time an expensive "fan+filter in a box", and a cheap way to take care of my lungs. This is nothing new, and I definitely don't want to go full-Bill-Pentz on anyone, I just wanted to share since I don't see the topic being covered so often, and I think everyone (I'm looking at you newbies/hobbyists) should at least be aware of the opportunity to spend a few hundred bucks in exchange for a little peace of mind / stacking the odds in your favor, health-wise.
It may be overkill, but better safe than sorry!