Here:
Dollar Tree: Cooking Concepts Bamboo Cutting Boards, 8.625x5.875 in.
and can be ordered by the case of 24.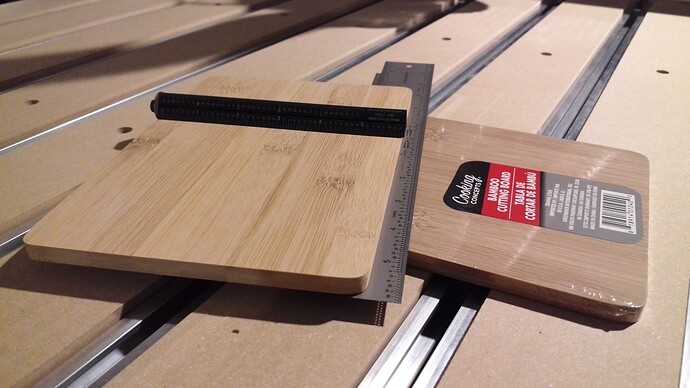 Ordered 96 of them. Thanks.
Can't see them - @DiscoJon must have bought them all



The link works, image is just broken
Thankyou - I didn't notice the link because there was no picture - 24 boards heading my way
@WillAdams What's the quality like on these? I tried carving some cheap bamboo from another source and they were full of voids and paper.
I have not yet tried cutting any — hopefully they're solid — there were a lot of craft-usage mentions, so didn't consider that they might not be solid.
Hang on.
I'm trying to imagine where will ran off to and what he's doing…I'm on the edge of my seat!
When I read this post this is what came to mind.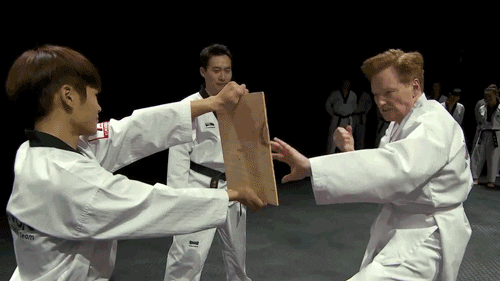 (Edit: got the image to show instead of a link)
I considered that, but it would have been noisy, and it's been a long while since I was breaking boards and so forth, and I was concerned it would have wanted to split along the grain.
The thinner ones that I bought one time turned me off to bamboo, because nearly every one of them broke on a glue line. Perhaps this isn't a problem with these thicker ones.
What are some of things/projects people are using them for? Just curious to know if I should stock up or not - LOL
Well, Dollar Tree is not taking orders for shipping to a local store in my area. Not as good a deal when you include the UPS freight.
Yeah, the only reason these make sense is convenience and the low price w/o shipping and local pickup.
I'm planning on making small boxes of various sorts, and possibly tool holders.
I'm quite happy I don't have access to those dirt cheap boards, or I would certainly get caught in a frenzy making trivets and coasters (and I'm trying to quit, so that would be bad)
Well, I bit the bullet and ordered a pack…no idea what I'll use them for yet, but I'm sure I'll come up with something as I've never made anything out of bamboo yet.
Thank you for the heads up Sir.
48 shipped was $77.00 so at $1.60 each I'm ok with that because I don't want to drive to get them. I have friends that want name plates and these being already cut to size will make for a very easy work flow although I have never tried to stain bamboo.
I might glue up a stack and try to make a custom spatula or other various kitchen tools / accessories.
I also bought 3 (96) not knowing what I would do with them. Maybe glue two together (stacked) to create thicker boards? Well see.
Shipping to FL was super fast I ordered my boards 2 days ago and they got delivered today.