I find the game controller and numeric keypad layouts a bit confusing (also, my son lay claim to the second Logitech F310 since he left his at college), and while I love the click on my wonderful 6 Key Keyboard (Techkeys SixKeyBoard CNC Edition) I find I need to change the jog rate often enough when using my Shapeoko that it has been consigned to the far corner of the basement for use with my Nomad (and I am anxiously awaiting the 3x3 version).
Until that time, I've been looking for an alternative ---- searching around I found that gamepad controllers in various layouts are widely available and quite affordable and settled on a Super Nintendo-style USB controller:
Fortuitously the layout and number of buttons matches well, but unfortunately, it doesn't seem to be possible to access the RB/RT faster/slower button for the supported game controllers such as the Logitech.
Mapping is pretty straight-forward even so:
left D-pad does movement in X and Y as expected
top button on the right, X (blue) is Z up
lower button on the right, B (yellow) is Z down
Y (green) is fast
A (red) is 1mm — this is where things break down a bit
Select is 0.25mm
Start is 0.025mm
The shoulder buttons L/R are unused and remapping was done using AntiMicro: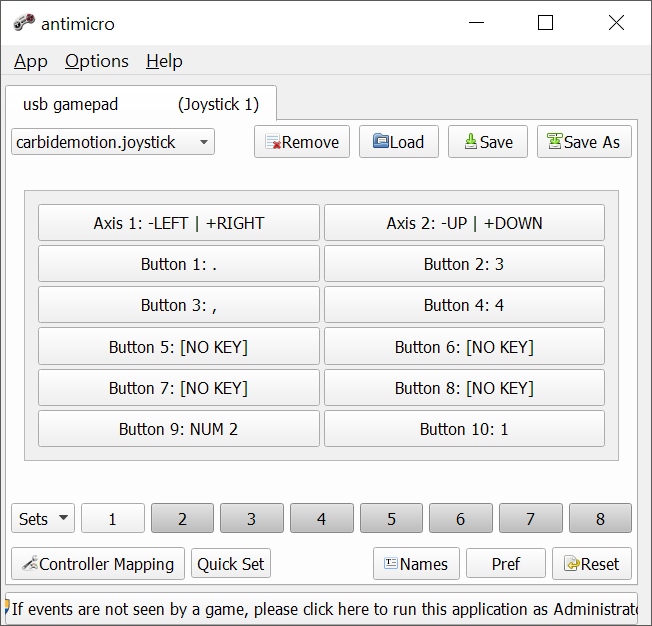 and I put in an Issue to see if the RB/RT buttons can be added:
(of course, @robgrz a keyboard shortcut for this would solve the problem nicely)
but this should work until @i3oilermaker makes his nicer, larger unit.