In addition to being a full time IT professional, and woodworking hobbiest, and dad of 3 amazing kiddos, I also have another obsession with mechanical keyboards. If you have never typed on a mechanical keyboard, dump your keyboard and get one right now - it is life changing. So this hobby led me down a rabbit hole which turned into a small business selling Mechanical Keyboard creations and accessories. I saw an opportunity for a perfect crossover between my two hobbies and the result is the Techkeys SixKeyBoard CNC Edition.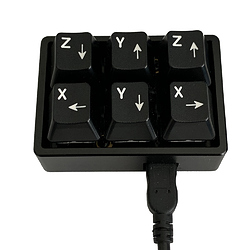 This handheld controller has some pretty nifty features:
Plug and Play USB - behaves like a standard keyboard
Anodized Aluminum Case
Cherry MX Compatible tactile and clicky Blue Switches. Click clearly defines a key press unlike a common keyboard or gamepad.
USB Cable routed from bottom of device to reduce interference with CNC
Allows operator to get extremely close to bit, and operate with one hand for precision jogging or zeroing operations.
Programmable through visual programming tool EasyAVR.
My primary objective is to share the hard work that I have poured into this project, but if you would like to support me by purchasing one it would be much appreciated. I realize there are a lot of options for jogging devices (game controller, mini-keyboards, tablets and mounted PCs) but I would argue that nothing beats a tactile clicky switch you can hold in one hand and does not require you to look at to control.
I welcome all questions and feedback, and will leave you with this video giving a quick demo and adorable sales pitch!