After nearly a year of owning my XXL and many hours of musing over how to get it setup right I think I've finally reached a place where my machine is working mostly the way I'd hoped.
Sounds suppression, XXL bed flatness, and other musings
So last night I was playing around with VCarve and loaded up an image I'd found on the web a few weeks ago. I tweaked some work things to split it into 3 panels and set it up to cut.
Material: 24"x24"X3/16" lauan plywood
Cutter: 1/8" two flute downcut router bit
Speeds/feeds: 96.6 ipm feed, 48.3 ipm plunge, router speed with SuperPID 28659 rpms(roughly), 0.0625 depth of cut.
Finish: I'm going to let my wife finish it out, she's better at these sorts of things.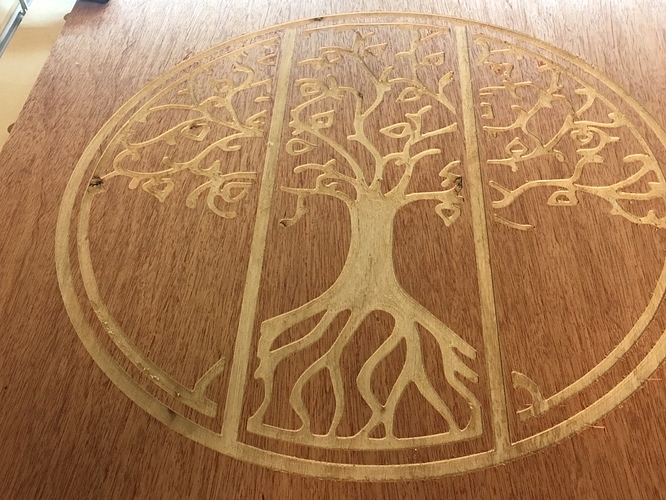 Tree of Life 18" diameter. Maybe if I'm lucky my wife will find somewhere to hang it up alongside some of her paintings, or she may throw it away since we have 7 kids collectively and don't need any more help in the way of making life, haha!!!
Dan