I was re-organizing my CNC area because it has gotten way out of hand, and thought since I had already move the Nomad out of the way, I should decide to do something about the dust/chip collection problem that occurs underneath the machine.
So i cut a great big honking hole in my CNC bench.
The frame is made from 4x4's and I doubled up two 2x4s so the right edge of the Nomad has plenty of support, and basically the entire underbody is now exposed, so all the chips that used to collect there can fall through. My plan is to make some sort of funnel/cone to funnel the chips into a trash can, and hopefully seal it so I can attach my vaccum if desired to create a negative pressure area to encourage chip migration.
For anyone looking to do the same, i basically traced out the exterior edges of the Nomad's sides, and then measured 2 inches inside of that and created a square to cut out. the square isnt pretty, i just ripped it with my skillsaw, hence why its not pictured; but it gets the job done.
(Im also dialing in the SMW fixture tooling plate…its loosely attached, and put these rubber strips to encourage some isolation to help with noise.)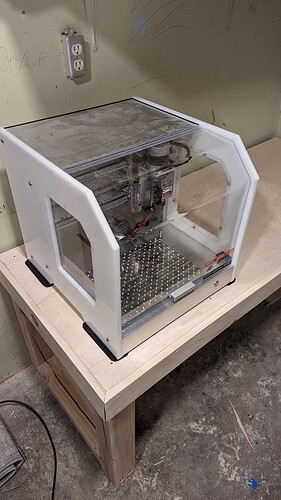 and here you can see the entire bottom of the machine is exposed so chips should evacuate quite nicely. the only areas for improvement would be to notch the back corners of the plywood because those back corners of the nomad trap chips, but i can always use a can of compressed air when needed.