Hard to beat lasers for plastic. 40 Watt. 100 Watt, or ?
@DanoInTx Can you post some pics of your laser addon? and appreciate it if you can include details about all what you ordered to add Laser to your S3, thanks.
@DanoInTx has apparently repeatedly subjected his stock XXL to over 5 times the force/stress as you (7.6 lbf vs. 1.33 lbf), without ill effects. Naturally, since he uses over 4 times as much power to cut 4 times as fast, his approach is going to be a lot noisier, but it does use more of the machine's capabilities. Note however that, Carbide 3D's @wmoy seems to recommend maximum forces less than 1.5 lbf, so it's up to you.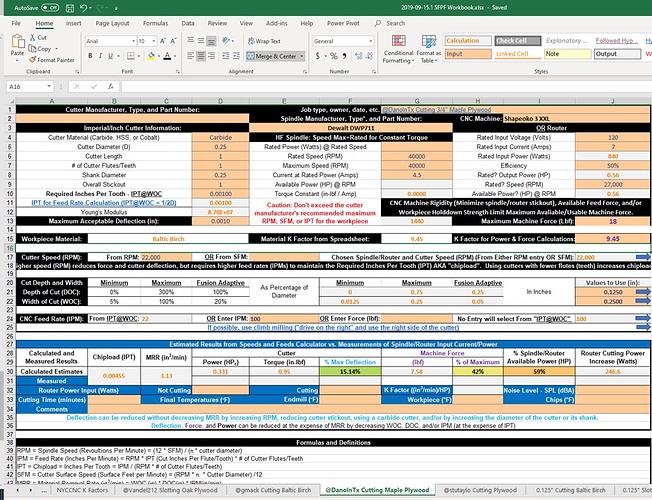 0.125" DOC
Machine is a stock XXL, with stock z axis, and a Chinese 1.5kw spindle
Mine started as a "50 watt" Chinese laser, but the Chinese apparently round their numbers up to the nearest 10 (likely closer to 35-40 watts). I added a 1000mm tube and 60 watt power supply and I should be pulling (peak) 53 watts now as my tube was actually tested. I run it at 16ma max, which is just below peak 18ma. It will cut 1/8" plywood at 24mm/sec and 1/8" acrylic at about 1/2 that speed for nice clean cuts. It's no powerhouse, but it does what I need.
Dan
I have a 7 watt JTech on my XXL, but it's kinda lonely since I bought my CO2 laser a few months back (my XXL is actually covered in junk/tools right now). The JTech is a really nice piece of kit though, and if I didn't need the cutting speed of the CO2 it would work great for me and engraving.
Dan
If you're happy with your feeds and speeds and the results/finish you're getting versus cutting time, then by all means keep them, experience is king. On my side I felt like with those settings you seem to be close to the lower limit where rubbing could happen, so I'm still curious whether you get any hint of burnishing on the edges ?
The discussion above seems to indicate that you could push feedrate quite a bit (probably x2 or x3) and still be fine, maybe just try that on a sample cut and see what happens. I would not increase DOC by much if I were you, slotting is hard and 40% of the endmill diameter is in the comfort zone. But @gmack would probably recommend using a DOC up to 100% of the diameter, and that may very well work out fine too at those high RPMs.
I try to keep stuff simple, while I really appreciate the science and work behind all of the speed and feed recommendations, I usually just stick with a really basic formula for wood.
DOC=1/2 of bit diameter
Speed = 60 IPM for 1/4", 50 IPM for 1/8", and 40 IPM for 1/16" These go up and down depending on the hardness of wood, but should work fine for Ply.
I try to keep my RPM around 18,000
Nothing scientific really, but this works for me.
I do plan on playing around with my adaptive settings though. I usually set Fusion at 0.1 engagement and 0.125 DOC at 60 IPM for a 1/4" Dia, but at some point I want to try going deeper and faster with less engagement. Just to see if I can increase my MRR.
@themillertree How many flutes do your 1/4", 1/8" and 1/16" cutters have?
2 Flutes.
But I just started using a Yonico 3 flute downcut, and I think I am in love. I accidentally rapid plunged .625" into some maple on a stock Z-axis, and this bit said, "give me more". I forgot to change my work coordinate system in my code/Fusion setup.


This bit is why I want to play around with my adaptive settings.

@DanoInTx How can I get a copy of that feed rate calculator's Excel sheet ?
Which feed rate calculator? I use GWizard, not sure which one you're looking for.
Dan
I run both the 1/4" and 1/8" 3 flute downcuts by Yonico and absolutely adore them! Very forgiving and leave a great finish!
As shown below, I took a stab at entering the info for your spindle into a spreadsheet to see how you'd likely cut Baltic Birch. It should take about 7 lbf of cutting force and 0.331 HP cutting power. Assuming the values I entered in cells G5 - G8 for your spindle are correct, the spindle current increase when cutting should be about 0.8 Amps. If you enter the VFD's displayed spindle current values when the spindle isn't cutting and when it is cutting into Cells D32 and F32 respectively, the spreadsheet will calculate the actual cutting parameters (Cells H32, and D31 - J31). As shown in the second picture that's how I estimated the K Factor for Baltic Birch. You can easily make copies of your spreadsheets to share and/or for your own future reference. A drop down menu accessed via right clicking the spreadsheet's tab at the bottom of the workbook gives you several options for that.
The latest workbook (with additional spreadsheets) is available here.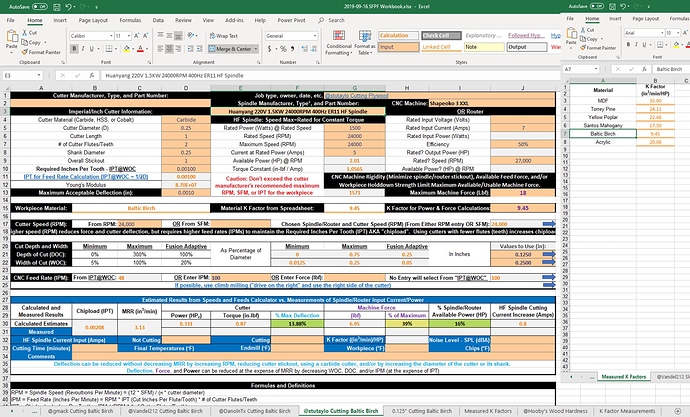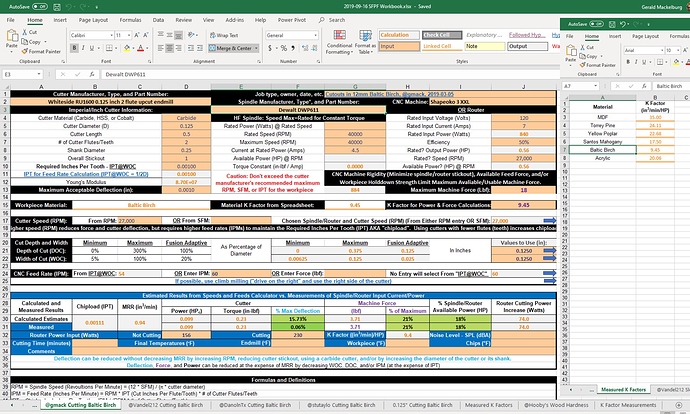 How much weight did this spindle and it's mount add? Did you use stiffer springs to compensate? If so, which ones?

Not a lot over the makita I had prior. When I cut power the z axis will move to about 1.5" from the top of its travel, regardless of where it is sitting in its travel when the power is tuned off.
Mine is the same diameter as the makita, not the 80mm which makes the weight a lot less
@stutaylo
Wow - that's impressive and really unusual! Care to share specifics on manufacturers and model numbers, for the spindles and VFD that you use?

Note that all of these SFPF spreadsheets assume that Baltic Birch is being cut/slotted. In my example the 1/8" DOCs each cut through 2 layers of glue. In other types of plywood 1/8" DOCs probably wouldn't be cutting any glue, so the proper K Factor would be significantly higher than that used in the calculations. It's probably the glue that makes plywood harder to cut than the wood it's made from. Baltic Birch was the hardest to cut wood I've measured.
From "@Hooby's Wood Hardness" sheet in the workbook the Janka hardness of yellow birch is 1260, red oak is 1290, Santos mahogany is 2400, and yellow poplar is 540. As shown in the "Measured K Factors" sheet, my K Factor measurement estimates were 9.45, 17.5, and 22.68 cu-in/min/HP for Baltic birch, Santos mahogany, and yellow poplar respectively. GWizard uses 18.8 cu-in/min/HP for plywood. So, for other types of plywood, the actual K Factor would probably be about twice as high as that shown (which would reduce the actual cutting powers and forces by a factor of 2).
This topic was automatically closed 30 days after the last reply. New replies are no longer allowed.