I'm trying to use dowel pins to join some parts together and to do that, I'm trying to nail down the right diameter to bore to get a tight fit on a 6mm h6 pin. I want a transition fit so that position is held under high loads perpendicular to the pin.
Such a fit requires that the walls of the hole are more or less parallel (well within ~12µm of parallel and a particular diameter).
However when I bore my holes, no matter what I do, I seem to get a taper. This is visible because when I try to put my dowel pin into my hole, it fits part of the way quite easily then it hits a point where it just stops and won't go any further. It's also clear because I can put my pin in through the hole on the top of the workpiece but not through the other side of the hole on the bottom of the workpiece.
I've tried various ways to fix this:
Boring twice (I'm using the bore toolpath in Fusion 360 which cuts with a helix pattern)
Adding a contour pass after the bore
Using a file to make sure there's no debris in the hole
I was also able to quanitfy it. Using my mill + 3D probe as a poor man's CMM, I can get the diameter of the hole at different depths: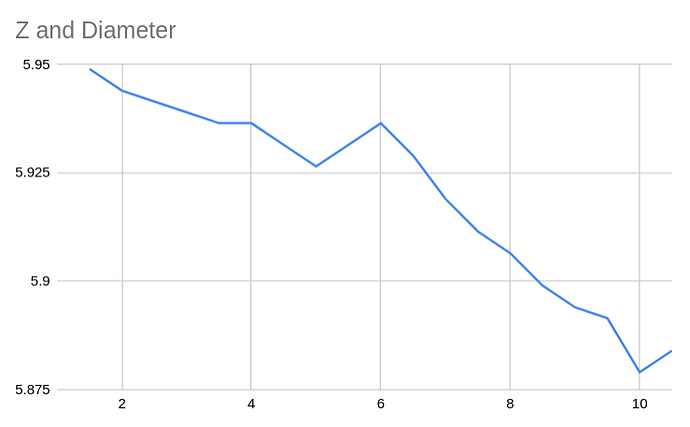 X-axis is distance from the top of the hole, Y-axis is diameter of the hole.
So we can see that at the top of the hole, we have a diameter of 5.949mm. By the time we get to the bottom, we've got 5.879mm, a difference of 70µm, waaaay too much (note that I haven't calibrated my probe, so the absolute numbers might be off, the relative numbers should be accurate though).
Anyone have any ideas?
I've ordered a reamer so worst case I can try that but it'd be kinda a pain.