I am unfamiliar with ratings of the carriages, the amount of weight they can hold, etc, etc. I was thinking of some way to use them on the Y (and eventually X) without having to use an end plate on the X.
This would replace the X rail with a piece of 2"x3"x11ga steel square tubing. Not sure if the tubing is square enough and if I'd need to have at least 2 surfaces faced to ensure squareness (is that big bucks to have a local shop do that?)
This is using HGR15 rails and a single block on each side. If you hung an HDZ and a 2.2kw spindle, is that going to be too much weight for a single block?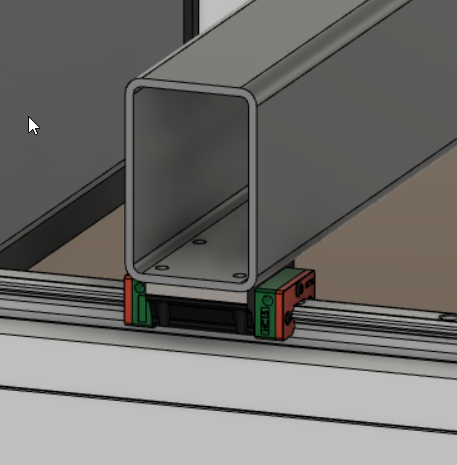 Additionally, recommendations for attaching carriages to the back of the HDZ if one is to use them there? I'm thinking front mount the rails. Depending on how far apart from each other and the radius of the rectangular tube, might have to go to a 2"x3.5" tube.