WOW! I am so impressed by the minds of folks on this site. Great job.
Me too!
Honestly the contests are a must see for all the creativity. Both admin created themes and user created content!
Good evening to all.
I never drew with my Shapeoko XXL before, although I often thought about it. And I had put an idea aside, which I took out again for the challenge #20.
I had this plan that I liked:

So I redrew it in polylines, and I found a solution to attach pens or markers on my cn.

I decided to draw on a 700x500mm black sheet, with a white pen.
I set a feed speed of 700mm/min for the outlines and 500mm/min for the pockets and writing.
I'm happy with the result, the lines are super clean and regular.
I just need to make a nice frame for it, and it will be great for decoration.

dessin lego 700x500 ligne epaisse 1.nc (60.5 KB)
dessin lego 700x500 ligne fine 2.nc (518.4 KB)
dessin lego 700x500 poche fine 3.nc (1.3 MB)
good luck to all
vivien
Would you mind sharing this file?
Looks great!
What provides downward pressure on your marker ?
Thanks, Bill
I decided to give it a shot and play with some Sharpies as well. Since Seattle now has a hockey team - officially - I thought I'd have my XXL draw up the logo.
I mean, that, and I just couldn't think of anything else to draw…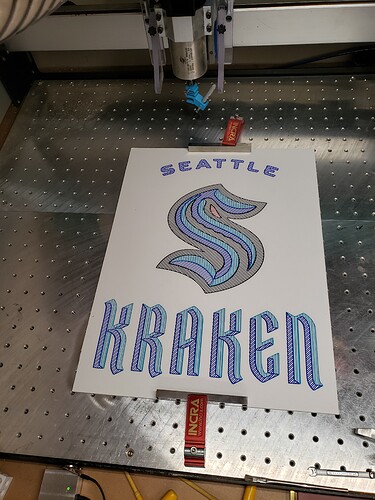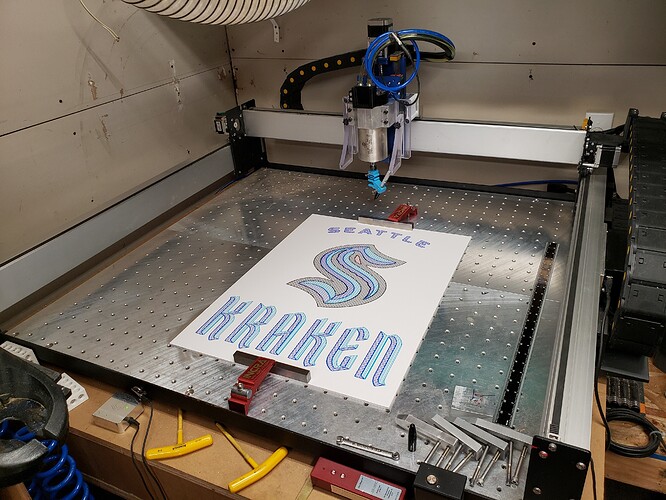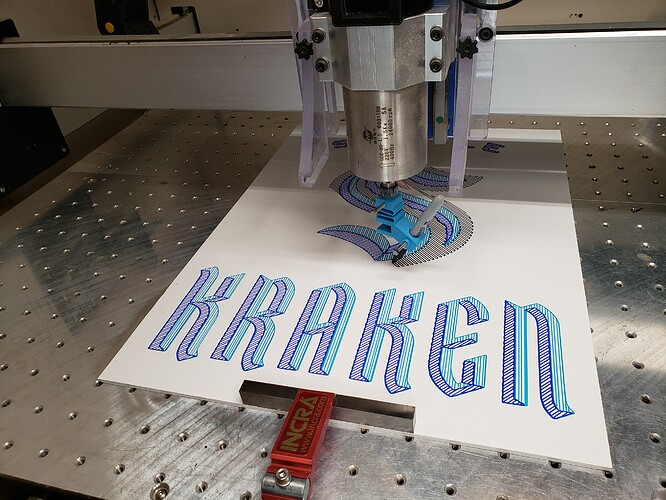 I took some video as well, and will throw it up on YouTube and post it here tomorrow.
I used a Sharpie holder from Thingiverse, and Vectric V-Carve quick engraving function. 0.050" deep Z-axis travel and 0.10" line spacing.
Update to my cityscape toolpath art with Wilson, there was a bit of a mishap with the tool change on the 3rd blue tool but another attempt all the same. Not sure if I'll have time for another go before end of the challenge but I think it's still better then my last attempt.
Edit: just to be compliant with the challenge rules here are some pictures of Wilson at work. Also @Julien do I need to add the details about Wilson in this final post or is it OK if they are split among 2 separate posts.
It's fine, thanks for the updated pics!
What I love most about this challenge is that we've proven that we can get our Shapeokos to an advanced enough capability to rival THIS (fast forward to about 1:00 in to see the "action" taking place).
Oh…and do yourself a favor and mute your video!
Welcome to the community! You will find a great group willing to assist in all CNC questions.
Questioning my Sanity?
No offense intended. Despite the green color and looking at the photo as an ink blot… Does anyone else see a road kill bunny?
I may possibly need therapy.

Y'all may want to schedule those therapy sessions ASAP.
LOL, I'll get right on it.

yes of course, what format do you want? DXF, DWG?
It's a threaded tube at the end. I had some plumbing plugs, I drilled a hole for the pen lead to go through on one side. And on the other side, I put some foam to force the pen to stay down.
Depending on the length of the pen, pencil or marker, I put more or less foam.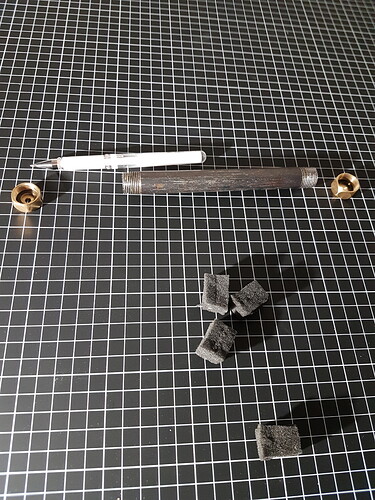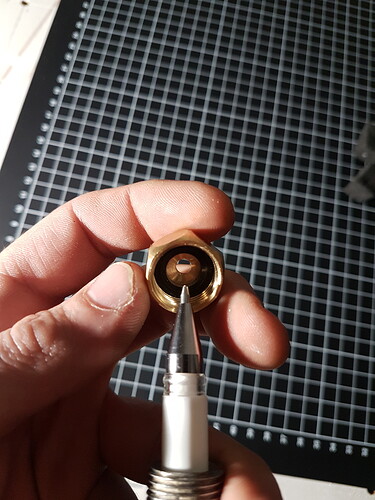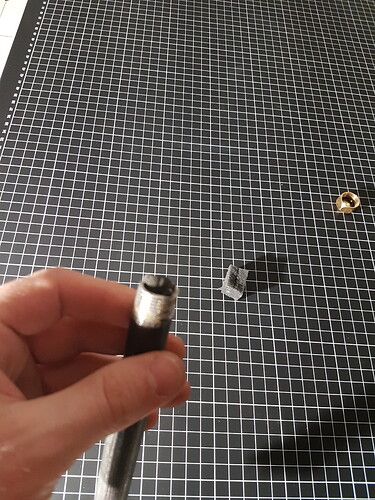 Thanks! I'll take anything you have.
dessin lego pour export 700x500.dxf (1.0 MB)
it will be only dxf, i can't share a dwg. but anyway it works on all software

That looked like something I made using an idea I found on a video from a New Zealander. I used off the shelf PVC parts.
His inspiration was to use a foam ear plug for the 'spring' After accidentally running the foam ear plug through the washing machine it springs back very quickly. I added the dime to keep the ear plug from deforming.
Here is the break out of my version. This only accepts mini-sharpies.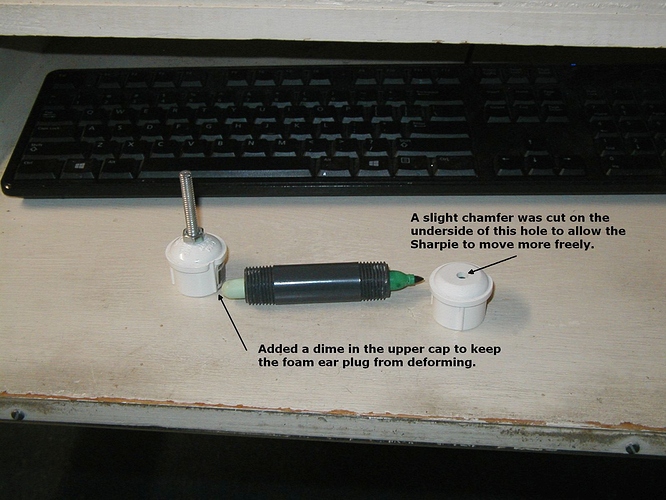 The assembled device is clamped to the router body via the threaded rod with a hose clamp.
Thanks, Bill
yes indeed, I forgot to tag you on my previous post, I apologize. I was inspired by your idea.
thanks to you.
Bwood34
I'm glad you found the pen/plotter idea useful and easy to implement. Your drawing reminded me of the Jetson's maid. My memory fails me as to its name.
Bill