I've read a lot of posts around anti-static and vacuums, but as you go through them, I haven't found one with a good photo to show exactly what has been done. Additionally, there are a few different schools of thought. With that, I have tried to depict what I intend to do to prevent disconnect issues.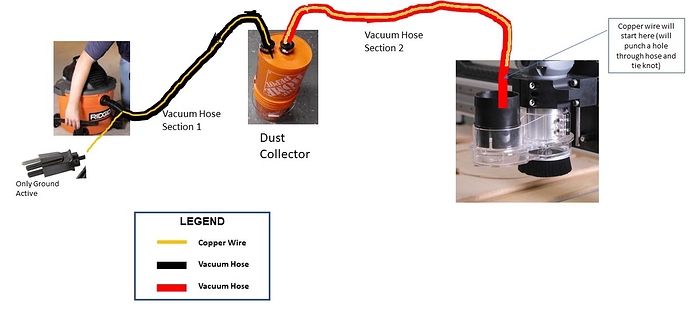 Here are my questions (please keep in mind this is based on Shapeoko Pro with a Makita Router);
Questions:
Can I use solid gauge copper wire or do I need to use the stranded copper wire?
What is the minimum Gauge wire required?
Can I run the copper wire on the inside of the hose (vs Outside) as I have seen people do different things?
Do I need Copper in both Section 1 and Section 2 of the hose? If not, which section do I need it in?
The copper starts just above sweepy. Is this correct? Do I need to have it also touch the router or any other part of the Shapeoko?
The copper terminates just before it gets in the vacuum, is this correct, or should I be running it into the actual shopvac and then running it to a ground?
Is there any other parts of the Shapeoko that I need to ground that I have not covered?