I wanted to build a modern-looking lamp for a corner of the living room, and even though it must have been done a million times I went for the "wood & acrylic sandwich" style. I swear, the day after I started, a new video from @wmoy shows up on my youtbe frontpage where he does the same thing (only better, of course), so I figured I would do it my own way anyway and see where I ended up.
I went for a large-ish version made with thick layers (3/4" oak, 0.3" acrylic), and the absolute mininum design: square wood pieces, small square of MDF with LED strip wrapped around it, and corresponding acrylic spacers. I knew light diffusion would be a problem so I added strips of plastic diffuser around the inner edges, and sanded the acrylic to give it a frosted aspect.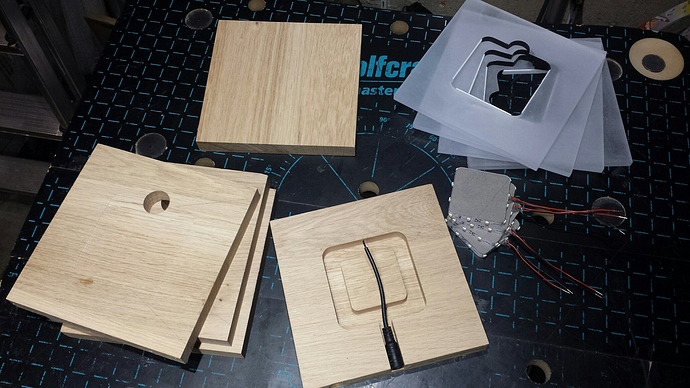 Glued everything layer by layer, soldering/checking LED connections at each layer
then hit the 6 faces with an orbital sander and I ended up with this: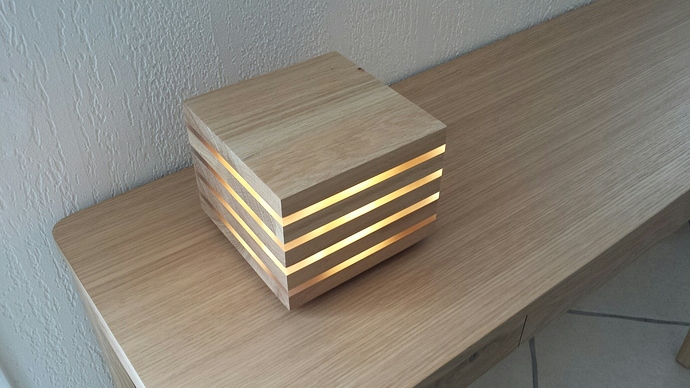 Light diffusion is not quite what I hoped it would be, my inner square is a bit too small and I should look for another diffuser plastic on the inside. However, the wood part came out exactly as I wanted (looking massive & sharp), so there's that.
Now to design a version 2 with better light diffusion.