Just saw this on the Lowes website, seems like a great price.
I use the same one. It's great. Night and day difference in sound from my previous shop vac. I think I got mine on sale for 120 or so at Lowes 6 months ago. Also have the DeWalt separator.
Here's my stealthy Dewalt. It is 1000 times quieter than my old Craftsman (which the neighbor grabbed from my driveway when I "threw it out" last year.



)
It isn't "quiet", but one can be in the same workshop with it. Oh, and it sucks!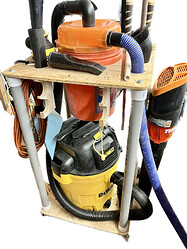 Tempting to do something like this rather than run my 5hp cyclone system for the fairly minimal amount of debris from the CNC.
This is what my setup looks like. Other than the deafening sound that old Stanley puts out it hasn't been a bad unit. Recently the motor started sounding different and letting out some black smoke but that's ok, a replacement from Dewaltsville through Lowes is on it's way.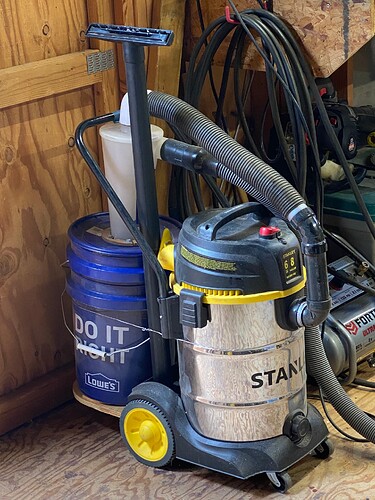 I didn't know about the DeWalt Stealthsonic. My ears thank you for the recommendation!
I bought one today at Lowes for $139 and I'm BEYOND impressed how quiet it is compared to my screaming banshee, F-16 at full throttle Shop-Vac. You can have a normal conversation with this thing running. Additional $50 for a DeWalt-brand HEPA filter, but my lungs are worth it.
Now I just need to do some minor modifications to fit it to my rolling cart with the Dust Deputy.
That's good to hear. I went with the 2 day free delivery and will be waiting patiently tomorrow afternoon.
I was considering picking up a second Festool or maybe that Bosch dust extractor, but maybe this would be a better solution than $500 more or using my 3hp collector.
Does anyone by chance know how the suction and noise level on this compares to a Festool? If I bought this Dewalt I'd need to hook it into my 2.5" flex hose because the hose won't be long enough as opposed to the Bosch/Festool that would be. For those that bought it, do you think it would have adequate suction with double the hose length?
I've used the linked hose from Rockler for years without trouble picking up cuttings. When I switched in the Dewalt, I didn't notice any difference (except for the noise.) It's basically a 2"o.d. x 1-½" i.d. x 20 ft. hose. (I can't compare to the Festool, because I could never bring myself to pay that much for a vacuum.)
Now, if there is a problem, then it will be what all small vacuums have; low volume suction. It works on my table saw, but some dust hits the floor. I do think this has a lot to do with the way the table saw is designed (and I don't have suction over the top of the blade), but a high volume dust collector would overcome this small problem for me.
The Dewalt is keeping me from updating my shop vacuum system.

The October 2023 issue of Popular Woodworking has an article on dust extractors.they all of course cost more. They really liked the Dewalt extractor which cost $700 but complained about the high pitched whistling noise from the hose when not hooked to a tool. Hopefully the stealth vac doesn't have that problem.
Of course the likes the Festool CT 36 E but it was $865. I would rather invest in a spindle upgrade.
DB rating for DeWalt DWV015 according to the article is 80.8 and the Festool is 76.8.
There were 6 other extractors in the roundup. None were cheap and one was down right scary: Uneeda $1,488.
I agree @southridgeww i may go this route instead of running my large collector and putting wear and tear on it. Plus it is way louder than the Makita router.
Just compared the two side by side. The Stanley came in at 82 dB-A, the Dewalt at 68 dB-A, a heck of a difference.
My Dewalt is about 76 dB(A) at approximately 8 ft. at ear level which is my operating position. To be fair, its sucking through an almost full separator.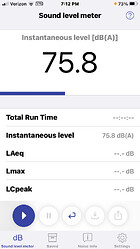 Just picked one up tonight. Absolutely love it. So much more enjoyable to be in the garage while running a job. Highly recommend.
I have been looking at these for about the last 3 weeks. I was hoping that i would hear some real world feedback on these. I am sure it will be quieter than my small craftsman shop vac. Sounds like I will be making a trip to Lowes.
I bought one today along with the harbor freight cyclone separator and a 5 gallon bucket.
Haven't tried it yet because the lid that comes with the cyclone separator doesn't fit the bucket from HF. I went to Lowe's to get a new lid tonight. I will get it going tomorrow I hope.
You wont regret it. I had a shop vac brand vacuum and it is so much quieter than that. I am in love with the quietness of it running in the garage.
I bought one today.
My C3D router died a few nights ago so I decided to buy a temporary Makita and this vac, then use the money I would have spent on another Festool and buy a spindle next month. I figured it's better to save the wear on my big collector and I could burn through 28 of these vacuums for the price of the collector.
I haven't cut with it yet, but I'm pleasantly surprised. The design is nice with the canvas tool bag strapped to the back. Mine will live in my CNC table so they will never be used, but nice place to keep them. A 2.5" clear flex hose will easily slip on the end of the Dewalt hose and tighten down with a hose clamp. My flex hose is 10' and it feels like it should have plenty of suction at the Sweepy. Without doing actual measurements, this thing is quiet. I'd say it's equal to about mid power on my Festool and the router drowns out any vacuum noise. I'm happy with it.
I have it hooked up in a temporary sort of way. I will build some kind of stand. It's definitely not as elegant as my main dust collector line coming down from the ceiling but have jogged all over the area and I don't see binding issues.
At first I was not impressed with the reduction in sound but that turned out to be extra noise introduced by one of the adapters that came with the HF cyclone separator so I ditched that and just have hose.
Right now I have the supplied Dewalt hose hooked to the separator and then the HF supplied hose hooked to the Dewalt extensions to give it some height and then another 4ish feet hooked to the sweepy with a bit of an extension added to it as I have not make that cool hose mount.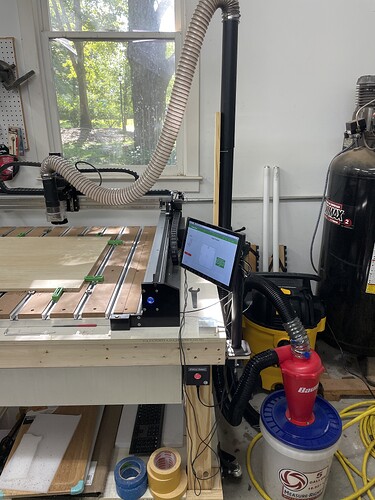 With this setup I hear more noise at the sweepy than from the vac or the separator.
I guess I should have sprung for the fancier dust deputy and their crush proof bucket though. Not sure how long this one will hold up.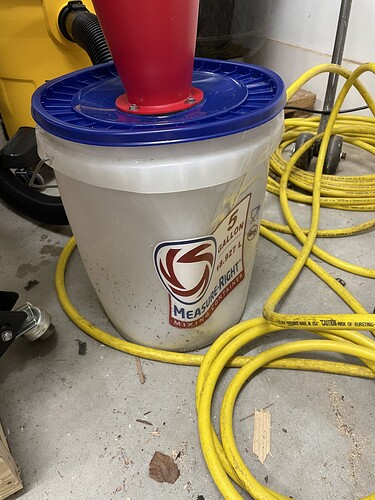 It works though. I did a 20 minute cut in plywood this AM and there is nothing visible in the vacuum bin or on the filter. I didn't buy the HEPA filter from lowes, I ordered a couple off Amazon as they were way cheaper. Time will tell if they are acceptable.
EDIT: I forgot to mention that is is def more quiet than my main dust collector. It did get hot so we will have to see if king running jobs we are it out but for the price you can go through a couple of these without breaking the bank.
The biggest problem now is that I want a spindle. I could barely hear the router over my main dust collector so it didn't annoy me but now…
I've seen that collapsed bucket things before, it can get ugly. I started with a Dust Deputy on top of a Lowes plastic bucket, the Stanley didn't take long to suck the sides in. I straightened it out and put that bucket in another identical bucket, that helped a little but eventually sucked the sides back in. I then added internal support to the bucket and put it back in another bucket, that lasted the longest but eventually cracked the bucket where it was in contact with the support.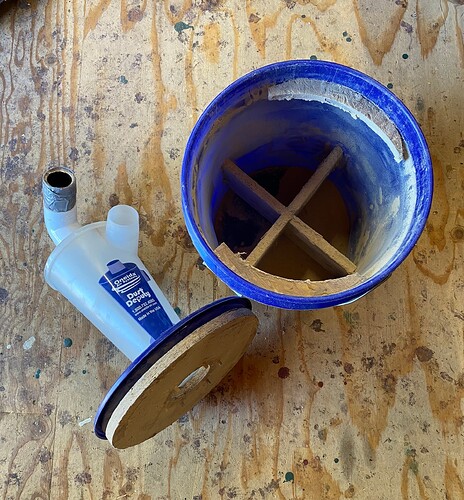 This afternoon I made a top and mounted my Dust Deputy to the old Stanley can, seems to work just fine.