I have a handful of questions for anyone with drag knife experience:
I recently designed a drag knife holder based off of the work of others (see picture). I made it out of 3D printed housing material with bolts as the shafts (one bolt is sleeved in plastic to make it fit the skate bearings)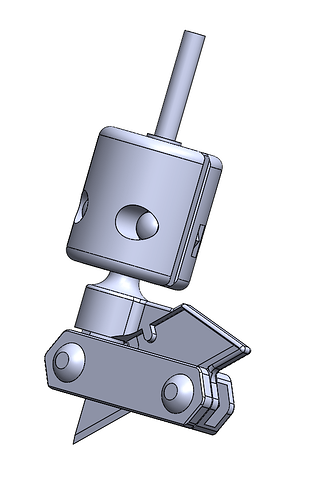 I tested the drag knife on 1/8" foamcore cutting a ~3 inch circle with a very small stepdown, but with poor results.
My questions:
How much does the distance between the center of rotation and the vertical face of the knife affect performance? I designed it to have 1mm, but am wondering if more distance would help as it tends to follow in a jerky fashion rather than smoothly, and occasionally drifts sideways.

Can drag knives cut thick materials well? I've seen professional setups work on foam core, and I've seen amateur versions work on paper and vinyl. I had hoped to do foam core with some thoughts toward building up a model of a church the local congregation is raising money to build. If drag knives aren't the way to go, I might need to look into needle cutting.

I haven't done any backlash tuning on the new SO3 XL. Should I be doing that with a permanent marker square before doing any of this, or is backlash not likely to be an issue at paper-cutting scale, and more a problem for getting seamless transitions in hard materials?
Thanks for any pointers!
Adam