I recently started using a new Nomad 883 Pro. I got a 1/4" thick piece of aluminum and I'm trying to make a bottle opener.
I kind of winged the toolpath parameters using some settings I saw on Shapeoko's wiki. 12 inch/min feed, 6 inch/min plunge, 0.012 inch stepdown, 2 flute 1/8" square end mill 30deg helix AlTiN coating.
Excuse my lack of experience, this is literally the first time I tried to cut aluminum on this machine. The plunge seems to make a louder sound, the machine seems to jerk slightly, the regions where the plunge happens seems to have a rougher cut, it looks bad, like a nick. In the picture below, where A and B are.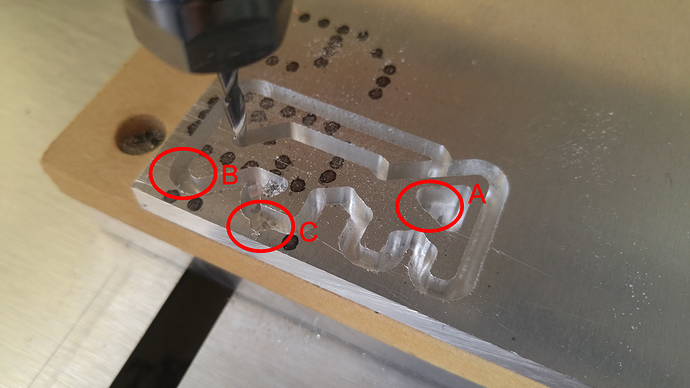 C happened after the perimeter was done, the cutter tried to plunge all the way to the bottom, the spindle completely jammed and stopped. I halted the machine by turning off the power completely, as it was trying to do a profile trip with the spindle not moving at all.
What did I do wrong? What should I change? Is my end mill toast? Did I fry my spindle motor?
It seems like the feed rate is fine and not noisy at all but the plunge is terrible. Also, how can I prevent that super-plunge that jammed up the spindle?
Thanks