Hi Everyone,
I'm enjoying learning to use carbide create for my 3d projects, but I am getting a little frustrated. At the end of this message I will add a couple of pictures at the end of this message of the end result. As well my gcode and an error I am consistently getting in openbuilds control.
So earlier in the week I was trying to follow a youtube video to make a spoon and was getting the same error message that I've attached here. When I was making the spoon I figured out that the retract height was too high so I adjusted it to 10mm and the error went away. As well, I am getting a pause on when it starts. So starts, pauses and I have to hit start again. My understanding is that G04 is the pause command, but I do not have it in the code. Oh, by the way, I'm using a Fox Alien Masuter Pro, 400x800.
Then I created a bowl where I had to carve both sides. I've attached the code for bowl top and bowl bottom. Although initially it went wonky on the first run, I stopped it, repositioned the bit and then it ran fine. Only issue I had was I made the depth exactly the same as the stock so it ran through the material, but with accuracy. It didn't penetrate the spoil board. So the carve went well. Then I turned it over. Re-positioned the bit and everything went haywire. Getting the alarm, hit start again and then it plunges into the wood too deep. The first run was to clear out a pocket, but it went near the middle of the piece and gouged really deep.
As well when I look at the code for the bowl bottom and compare them in openbuilds control and notepad++ where I seem to be getting the first error is at line 51. But then I noticed the code was different in notepad++. I've highlighted a few that are not the same. Big question?? Why is that different?
If someone has time to review design and the code I would greatly appreciate any advice you have to improve this situation.
Much appreciated.
Robert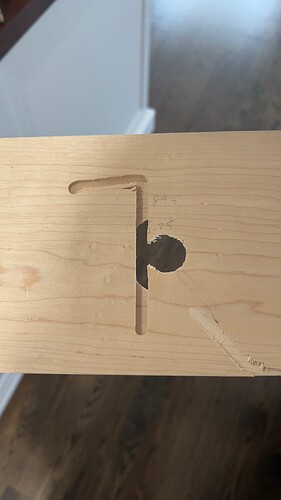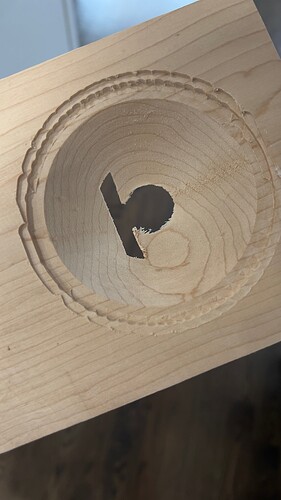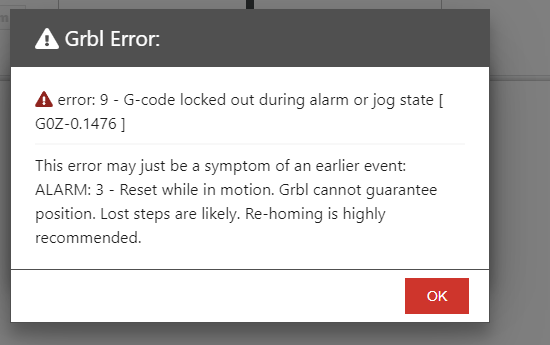 bowl bottom1.nc
(1.8 MB)
bowl top.nc
(659.2 KB)