So I have been designing a dice box for some time now with this for the lid: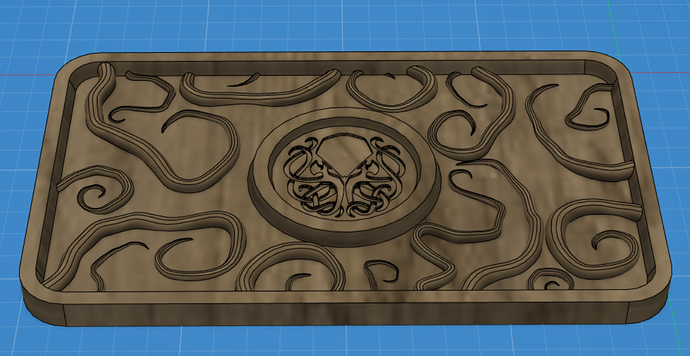 (The logo in the middle is from
here
but I designed the rest myself)
The box itself is fairly simple but I am having trouble figuring out how to carve out the lid. The box is basically all 2D tool paths which I have gotten fairly good at. The lid however is mostly 3D tool paths which I am having a hard time wrapping my head around. I was planning on used the following 3 end mills:
6.34mm 2 flute flat up cut end mill (link)
2mm 2 flute tapered ball nose end mill (link)
0.25mm 2 flute tapered ball nose end mill (link)
I plan on using the flat end mill to hog out most of the material, the 2mm ball nose to rough out the shape, and the 0.25mm ball nose for the details. I do not know though what the best mix of tool paths, feeds, speeds, step overs, etc to accomplish this in 3D are. I would like to keep the machining time to a minimum while at the same time getting a good finish on the hard to sand parts. Any advise is greatly appreciated.