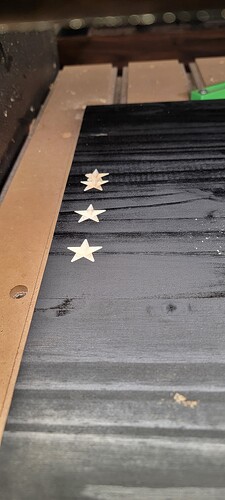 My HDM is approx 3 months old and I'm already having a serious issue with my HDM. The past 6 attempts i've ran so far have had the same type of failure but in random locations when carving with Vbits. As you can see from the picture the alignment is off. I can always tell when it's about to be off because after it carves one star and transitions to carve another the motor sound will be much louder then starts carving in an off-alignment location. From this point it'll transition to other star locations as intended but the project is already ruined.
I've already checked ever ball and screw clamp on each axis is clamped down tight. I've also ensured that the linear railing is free of debri. This attempt was done at 40 inches per min.
I'm in desperate need of help as i've already attracted paying customers and can't afford to keep throwing away pieces/ wasting time. This particular project is due in 2 days. Please help.
respectfully,
Adam