@isoworks: so an adaptive toolpath will look like this: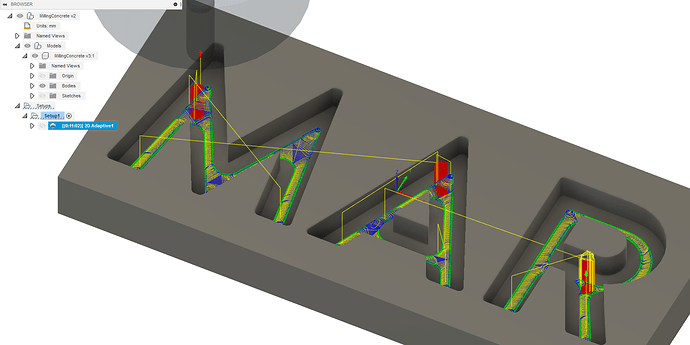 zooming in :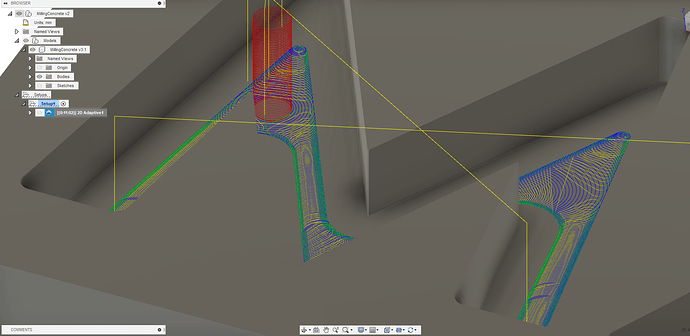 I chose to do a helical ramping at 30ipm into the material, and set the ramp angle to 1° (as per Christian's advice in the instructable page, which makes a lot of sense, and should help a lot in not losing steps on your stock Z axis). That's the red part above, and here's a simulation of that part:
then the tool will take circular passes at the material, shaving off just a little each time (but moving fast, 60ipm). In that example I chose to apply the same settings as Christian: 8% of the endmill diameter, so 0.02":
with those settings, the three letters would be done in about 11 minutes. HOWEVER, for this test we will do, I suggest we dial back the settings to an even lower stepover, say 0.004" (still at 60ipm), and see if that works. If it does, then we can then easily increase that and find out when the machine/the tool gives up. That same toolpath at this 0.004" stepover at 60ipm would take 34minutes (but you wouldn't have to wait that long: a couple of minutes should suffice to determine if the cut is good, and then we can move on to an incrementally larger stepover.
However this assumes the use of that other tool in the picture, that is only rounded at the tip, to be able to cut 0.25" deep in one pass. The ball tool is 1/4" in diameter, so it cannot take more than 1/8" in depth and you woud need two passes:
=> let me know which one you have and want to use, I'll adjust the toolpath and post a first G-code test file !