Hi Everyone,
I'm trying to make a bunch of circular picture frames, and am having trouble. It's an incredibly simple cutting program, and I've done it with success several times, using cherry, as well as maple, only now I can't seem to get it to work.
I start with an 8" square of hardwood, 1" thick. It is comprised of two pieces of 1/2" thick wood, laminated cross grain to each other for strength. Then three pockets are cut, followed by concentric slots, going from outside in. I'm using tape to hold down the wood (for now), and leaving a .2mm skin along the bottom.
I have done this program about 6 or 7 times without issue. But on the latest work piece it's having problems. The spindle is getting stuck, dropping steps, and making a kind of "bottoming out" noise when it gets to the last few passes of the slots. It does not seem to happen on the pockets, nor on the cuts adjacent to the pockets.
This made me think it was due to chip clearing, but it seems odd that it would start happening now, after being run perfectly well so many times before.
I tried modifying the g-code to reduce the speed and the plunge significantly, but it doesn't seem to have made any difference. I have no idea why this is suddenly misbehaving! Could it be a problem with the machine?
Here's a few photos, in case they help: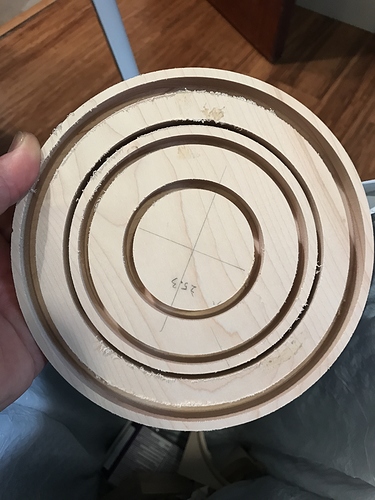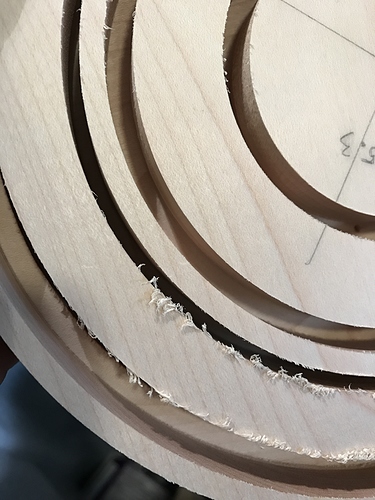 And here's my files:
concentric wood master 25.1mm.c2d (11.9 KB)
concen wood 25.1mm stock.nc (1.1 MB)
concen wood 25.1mm stock.egc (1.5 MB)