Hello everyone!
With my first project (the Beaver CNC Heavy Duty Linear Z/X) making rapid progress. I wanted to setup project no 2.
It occurred to me that one of the worst parts of owning a Shapeoko (if ever there was a bad thing to say) is the adjustment on tramming! It drove me nuts and I see countless threads on adjustment and ridges on pieces.
Previously I had offered plans for an easy tram mount however it required modification to the existing Z plate. Whilst that wasn't ideal it allowed you to adjust the spindle tram easily without the need to fanny about between your Z and X plates time and time again.
I thought it was such a great idea I included it on the the Heavy Duty Linear Z/X. I then thought to myself why not offer a stand alone version that utilises all the existing shapeoko hardware?
The principle is simple and can seen seen in this working diagram.
I wanted to start a project that had a much lower price point but would create a better Shapeoko experience for all.
What am I offering?
A simple Z plate upgrade that allows you to easily tram your spindle left/right using eccentric nuts.
A simple upgraded precision milled Z plate
The Z plate would be slightly stiffer than stock
A precision milled EasyTram mount
All required hardware to fit and adjust the Z from the front
Video tutorials
Compatible with all current kit including well known dustboots
Direct fitting to your existing X plate and Shapeoko hardware
Global shipping
I'm in the final design and testing stages, and should be in a position to ship in 6-8 weeks. Maybe less, I'm expecting these would retail at around $100 including global shipping.
Here is a concept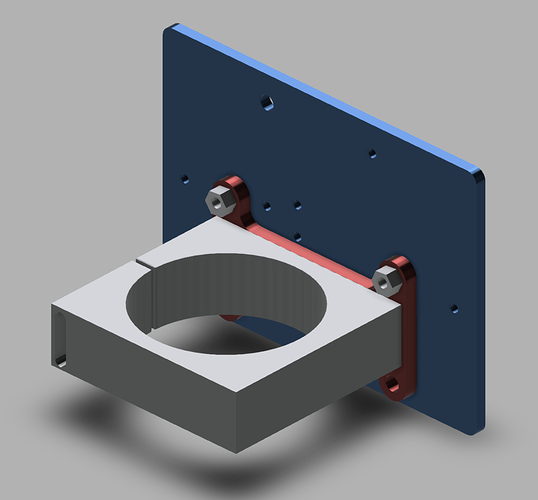 Luke, your a mad man but I'd be keen. I hate tramming my machine.
Great idea, but I don't have a problem tramming.