I just ran an experiment to measure the accuracy of my "Mr Beaver" limit switches and I thought I'd share the impressive results.
First here is my test jig. I using a HF digital dial gauge set in MM mode. It's clamped to the right side Y extrusion (closest to the Y limit switch. It's measuring the X extrusion after repeated homing cycles.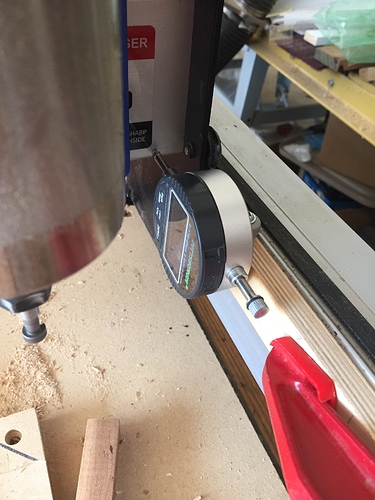 I want to first verify the accuracy/repeatability of the dial gauge so with the Shapeoko powered off I pushed and clamped the Y axis to the rear so it could not more. I positioned the dial gauge so it was compressed a couple of MM and tightened my clamp holding. I then zeroed the dial gauge and them took a 5mm Allen wrench and inserted it between the dial gauge and the extrusion and then removed the dial gauge. I repeated this 10 times and the result was 0.00mm every time. So I'm very confident when the dial gauge returned to the same 0 position there was no error in it all 10 times and instrumentation repeatability was good. So I'm good to go with the real test.
Test Setup
Unclamped the Y axis and turned on the machine. I then ran a homing cycle after which I reset the zero on the dial gauge. That completes the setup and this was only run this one time. This gives me a reference point at the conclusion of a homing cycle.
Test #1
So this test I just kept hitting HOME and then recording the reading on the dial gauge. I was looking for the variance and standard deviation of the position after multiple homing cycles. Let's just say this was a boring test as the dial gauge measured 0.00mm all ten times I repeated it. So variance as 0 and standard deviation was 0. I'm a little surprised to say the least
Test #2
I'd wondered it powering off the Shapeoko between homing cycles could possible change it so I powered it off between each measurement then ran the homing cycle. There was no change in the result and the next 10 measurement were all 0.00mm.
So all 20 measurements returned to the same zero reference point I did in the setup. Every time!
Wow; I expected some number and never 0. All I can say is BUY SOME.