So I want to start off saying my Nomad is great, and I've been using it as much as I can since I got it, and thoroughly enjoy it.
(I felt the need to add a positive note to what some might consider a negatively themed thread)
---
That being said I have noticed something, and would like to get to the bottom of it, if possible.
I've been machining a few parts and after consuming a number of hours of CNC related content on YouTube, the C3D forum, etc., its my understanding that doing a roughing pass leaving somewhere in the neighborhood of .5mm stock to leave and then doing a finish pass should get me me close to the desired final dimension of my part, and closer than ±.2mm
---
In practice I think (not sure though) my 1/8" collet has some sort of runout, because my pockets in my fixtures are oversized, and the OD of parts I've made that should fit in them are undersized, by a pretty consistent margin of .2mm. I actually have stopped using my 1/8" probe that came with the machine as the runout is super obvious with the naked eye to be at least a few mm. I'm not sure if that can be caused by tightening the collet nut too much (I never tighten it without an endmill in place, and usually just leave whatever I last used in the machine, to exchange after homing/initializing)
Also, this isn't specific to one 1/8" endmill in particular, as I machined the first project with the 102 flat 1/8" that came with the machine, and the second project with some SpeTool 1/8" cutters i picked up off amazon recently.
The last piece of evidence that leads me to the 1/8" collet is that when spinning the spindle with an 1/8" tool in place, ive seen the tool wobble back and forth (indicating runout, the tools are tight in the collet at this point), but not when I put a 1/4" tool in the spindle.
So, now that I've spouted off, here is my evidence of some sort of runout or inaccuracy. All of these parts were brought to final dimension with 1/8" tools, so maybe a good starter test would be to cut some squares of material with 1/8" and 1/4" tooling and see if they do the same thing.
---
for example, my first project, a maker coin made out of 6061 aluminum.
fusion model width: 62.354mm
actual width (measured with amazon calipers) ~62.15mm
my second project, a bearing & fixture to hold that part and others
bearing - fusion model diameter: 131mm
actual diameter: ~130.88
pocket in fixture to hold bearing - fusion model diameter: 131mm
actual diameter: ~131.2mm
---
Not sure if this should be a separate thread or not, and in theory since I'm using the same collet nut between both collets any inaccuracy should follow it, but my collet nut seems to not be concentric, unless I am ignorant of something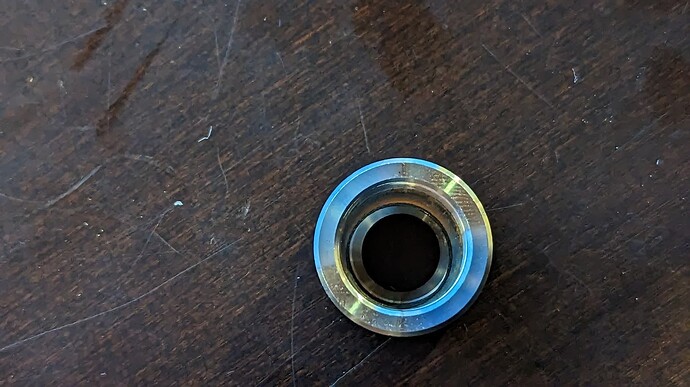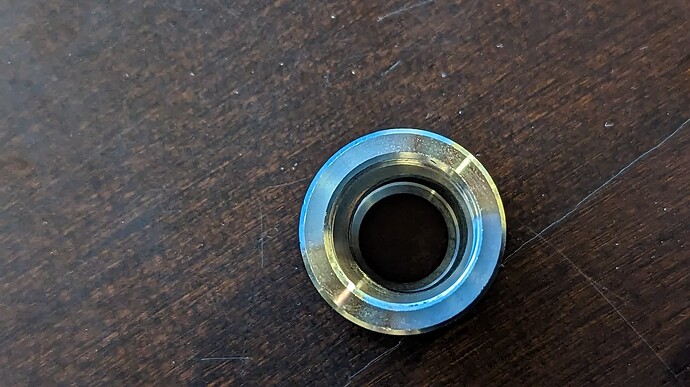 I did my best to get over the collet nut, and not at an angle, so hopefully the fact that the inner hole is offset/not concentric to the other one is clear. Both of my collet nuts are like this, the one that came with my Nomad, and the one that came with my 1/4" collet.
I await any suggestions from…anyone really. Im planning on buying a digital indicator (I have zero interest in trying to interpret an old school needle based one) and seeing if the spindle itself has runout, but any other suggestions would be appreciated.