I'm very very new to using the Nomad and, perhaps foolishly, I'm starting with Aluminium.
I set up a 3D Adaptive toolpath in Fusion 360, using the settings from this video (I'd love to post the settings themselves but apparently new users can only post a single image).
This was the result: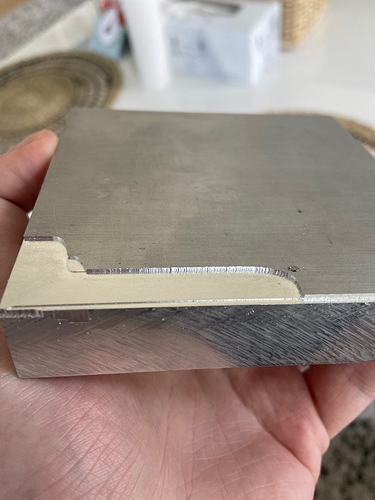 My concern is that edge with all the vertical ridges.
The material is AW-6082, I believe with a T6 temper (supplier doesn't specify a temper, just a hardness of 95-105 on the Brinell scale). I'm using a 102-Z endmill with the Carbide 3D vice.
While the machine was running, it got really loud when it was cutting that edge and sounded like it was rumbling/vibrating more than I think it should. However as I said, I'm very new to this and so have little clue what's normal and what's not. Maybe this is normal for a roughing pass and I'm meant to clean it up with the finish pass?
I'm not sure whether anything is wrong, and if something is wrong, what to do about it.
My best guesses so far are:
Everything is fine, I'm just a newbie, scared of loud noises.
I'm pushing the machine to hard and need to slow down

But these settings worked for Winston in that video and they're also what come out of G-Wizard.
But I'm working with a potentially very different alloy of Aluminium (AW-6082 seems super common in Europe, less so in the US).

My work holding sucks - not sure what to do about this since I have limited work holding options right now (the thing I'm trying to make is actually a wedge clamp).
I'd appreciate any advice anyone can give. My next course of action is probably to try a bunch of pockets with different feed rates.