I go to a Cigar store in Nacgodoches TX. In the mens restroom someone had put up a pathetic sign about keeping the bathroom clean. The light bulb went off and I came home and created a little 12.5" x 12.5" sign to go in the bathroom. I almost never found the cigar store's logo but finally found it on Facebook. I got the image and created an SVG in Inkscape. I found the little bell boys (AKA Phillip Morris Advertising of 1920's) on google and modified them with the service and quality. I carved all objects with Advanced Vcarve to a depth of .1". The text was #102 1/8" and 60 degree Vee. The Bell Boys and logo were cut with 1/16" and 60 degree vee bit. I think the carve took about 3 hours.
I put a coat of shellac on the sign and painted with acrylic paint and brush. I then sanded to 60 grit to get the excess paint off. I used the Rub & Buff Gold paint to highlight the logo. I have about two coats of satin rattle can polyurethane finish. I will let it dry and give it a 600 grit sand and put on another one or two coats of finish.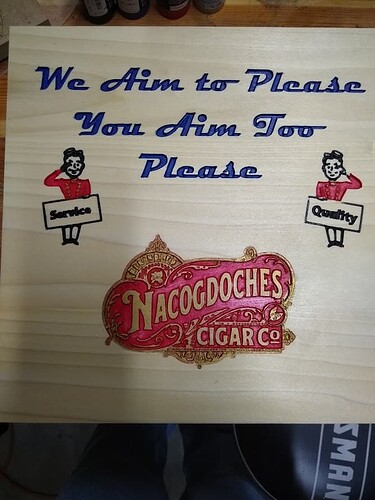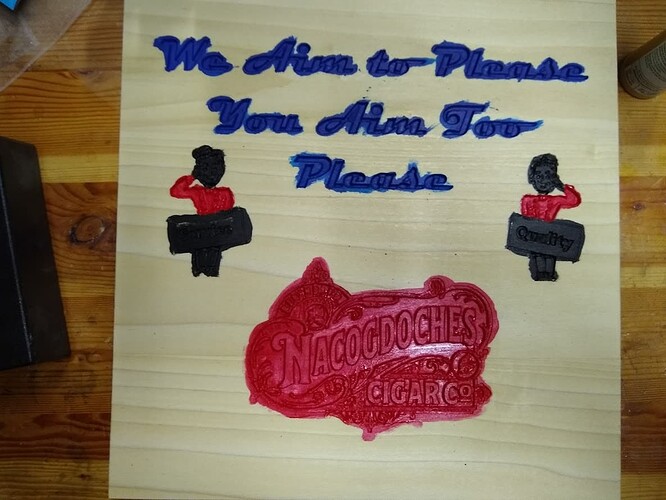 The base material is popular that I cut and glued together. There are a few missing parts like in the A in AIM but it is a charity project so the words are still recognizable.
The last thing is to do the new Key Hole tool path on the back to hang it. Have not done that yet but asked on the forum and I think I know how to do it.