I am using the V7 Beta 723 and was wondering if anyone has an explanation about using the keyhole toolpath.
How do you enter the keyhole bit in the database. I know how to add a bit but what parameters do you use to enter it.
This is an example keyhole bit I found online.
Product Name: Keyhole Bit
Material: Steel,Tungsten Carbide;?Main Color: Beige, Silver Tone
Standard: 1/4 Inch x 1/2 Inch
Shank Diameter: 6.35mm / 1/4 Inch
Cutting Diameter: 12.7mm / 1/2 Inch
Cutting Diameter 1: 6.35mm / 1/4 Inch
Cutting Width: 4.76mm / 0.2 Inch
Cutting Depth: 9.5mm / 0.37 Inch
Total Length: 44mm / 1.73 Inch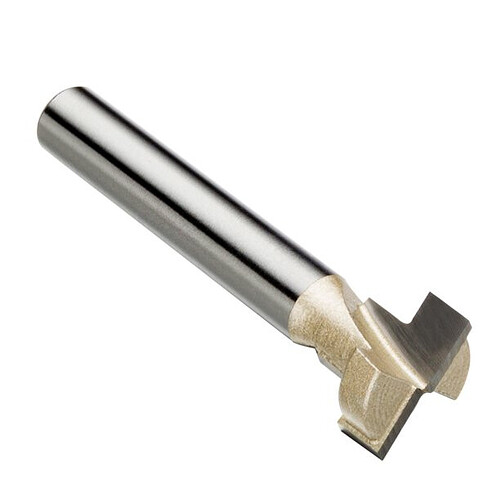 https://www.walmart.com/ip/1-4-Inch-x-1-2-Inch-Carbide-Tipped-CNC-Keyhole-Router-Bit-Cutter/535920129?wmlspartner=wlpa&selectedSellerId=571&&adid=22222222227084877303&wl0=&wl1=g&wl2=c&wl3=200166002059&wl4=aud-1169585590980:pla-325504414761&wl5=9025685&wl6=&wl7=&wl8=&wl9=pla&wl10=111838760&wl11=online&wl12=535920129&veh=sem&gclid=Cj0KCQjw_viWBhD8ARIsAH1mCd5uP-yk9gLXb5pBsVSPXqlW0GUjDTfisPb-sdnZCN3N7LDS0g-ijY4aAjHoEALw_wcB&gclsrc=aw.ds
So what do you enter the 1/2" bit diameter and the what else?
Here is a picture of the Keyhole Toolpath can you please explain the use of each of the parameters in the tool path.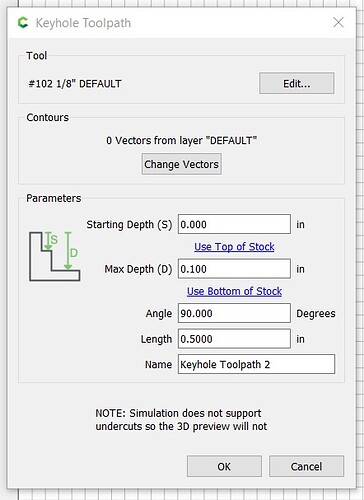 In the above picture the toolpath has 0 vectors chosen. What do you choose, a circle the diameter of your keyhole bit or what exactly should you draw to choose to make a keyhole.

After you enter a bit, choose a vector and fill out the tool path what is the tool path going to do. Plunge the keyhole bit to the max depth then move forward (in the example above 90 degrees) and then reverse and come out the same hole that the keyhole bit plunged into?